"Innovative and authentic" – Could Pioneer DJ's DDJ-REV5 be the DJ controller we've been waiting for? It has an "authentic scratch experience" plus cutting-edge stem, mixing and performing features.
Pioneer DJ has introduced DDJ-REV5 DJ, a new-generation controller offering an authentic scratch experience and innovative features. The new DDJ-REV5 controller delivers the 'next generation' of scratch control. Add in some very cutting-edge stem, performance and BPM mixing features, and this could be one of the best mid-priced DJ tools in the market.
Pioneer's new DDJ-REV5 is a Serato DJ Pro and rekordbox compatible controller, and slots in between the company's DDJ-REV1 and REV 7, offering several features of the top end model but for less cash.
Pioneer says the new DDJ-REV5 offers the best of old and new with an "authentic scratch experience and a variety of innovative features to enable more creative open-format DJ performances".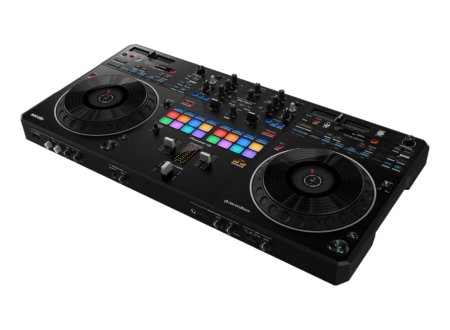 These new features include large and easy-to-use jog wheels, designed to feel like classic CDJ wheels. In addition, there is a robust MAGVEL fader which is "ready to translate every tiny movement" while scratching.
But it seems to be the performance side of the controller where the DDJ-REV5 really shines. As well as long tempo sliders above the decks, it features both Performance Pads and Lever FX so you can easily add riffs and effects as you mix. You can use the new Piano Play mode, for example, to play 'always in key' riffs and melodies above your mixes.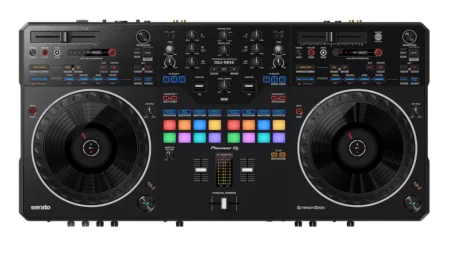 The stem controls and features are rather cool. There are four dedicated buttons to control your music as the software splits the audio into its constituent parts (vocals, melody, bass, and drums in Serato DJ Pro, or vocal, drums, and other instruments in rekordbox).
Each stem part can be solo'd or muted to create your live mashups, or different stems can be controlled by separate decks for live remixes. An EQ knob controls volume for separate stems.
Lastly, there is an Auto BPM feature that enables you smoothly transition between the tempos of your current and incoming tracks over a predetermined number of bars – the current track will gradually change tempo to match the one loaded over those bars.
DDJ-REV5 costs, around £999 (inc tax) and $/€1099 plus tax. You can get more information from the Pioneer DJ website.
Here's an in-depth video from Pioneer DJ US below:

---