Critter and Guitari looks to carve out a niche in the standalone music production space.
Critter and Guitari has introduced 5 Moons, a mobile multi-track recorder and looper. It is designed to be simple, easy to use and portable.
5 Moons could be the wooden multitrack recorder and looper that is missing from your life. This unassuming wooden box is in fact a five-channel multitrack recorder with looping and bounce-down functions. So, although you can use it in a linear manner if you wish, the real creative boon might come when you start looping and layering.
There is no screen – just plug in, hit the record button and you're off. Once you've created five tracks you can bounce these down to a single track in a new song, giving you a further four tracks to work with. Bounce down again and you've got another four tracks; you can repeat this process as many times as you like, effectively giving you an infinite number of tracks.
A USB-C port provides power and data transfer, and controls comprise just volume sliders, some buttons and a master output knob. An 8GB microSD card contains the operating system and is used for storage – around 20 hours of recording time. Input is on 1/8-inch monophonic jack and the output is the same. Recordings are made at 16-bit/48kHz.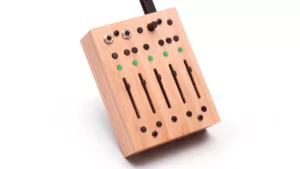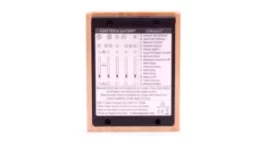 Features:
Audio Input/Output:

1/8″ Monophonic Audio Input
1/8″ Monophonic Audio Output

Five Track Volume Sliders
Master Output Volume Potentiometer
Audio Format:

Record Sample Rate: 48KHz
Record Bit Depth: 16-bit

Included Storage:

An 8GB microSD card holds the operating system and audio storage.
There is ~7GB for available for audio storage.

This is about 20 hours total record time.
5 Moons is available now for $325.
---