Bob Moog Foundation, a non-profit organization dedicated to preserving the memory and work of synth pioneer Bob Moog – has announced its annual summer synth raffle, which features a fully restored vintage Minimoog Model D, signed by the legendary Billy Joel.
All ticket sales go to support the Foundation's mission of inspiring future generations of innovators through the intersection of science, music, and technology.
The Minimoog that is featured in this raffle is not just signed by an icon. It belonged to Billy Joel's musical director, David Rosenthal, a keyboardist, synth programmer, and orchestrator. He was formerly of the rock group Rainbow, and has toured with Cyndi Lauper, Robert Palmer, and Enrique Iglesias and others. He's been the musical director and keyboardist for Billy Joel's band since 1993.
The estimated value of this instrument, even without the signature of a celebrated musician, is in excess of $10,000.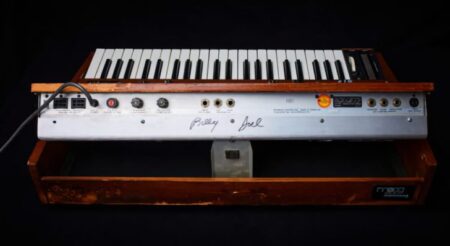 The left-hand control panel on this Minimoog was modified to use a ribbon controller and modulation wheel, identical to that of a Micromoog. Its original left-hand controller, with the standard pitch and modulation wheels, was preserved, and will be sent to the winner.
This unit's serial number is 8486. It was final-tested on Jan 17, 1977. Besides the pitch ribbon update described above, this unit also has the version 3 oscillator update. This oscillator upgrade would not have been installed in the factory until roughly 1979/80, and was a special-order option for those with earlier production units who wanted rock-solid tuning.
Due to the desirability of this classic synth, its signature from Billy Joel, and rock 'n' roll provenance with David Rosenthal and Rainbow, it will only increase in value. This Minimoog was fully restored by Synthpro Restorations, LLC, and is in excellent technical and physical condition, with minor physical flaws commensurate with the age of the instrument.
"The Bob Moog Foundation is proud to share this unique vintage Minimoog, signed by Billy Joel, a truly legendary musical figure who integrated the Minimoog into his music and performance decades ago," said Michelle Moog-Koussa, Executive Director of the Bob Moog Foundation. "In addition to Joel's signature, the unique provenance of this Minimoog makes it a one-of-a-kind synthesizer – a collector's item. We extend our deepest thanks to Billy Joel and David Rosenthal for their participation."
The raffle for this vintage beauty signed by one of the most beloved and best-selling American musicians of all time begins on August 1, 2022 at 12:01 a.m. ET, and ends on August 31, 2021 at 11:59 p.m. ET, or when all 5,000 tickets sell out – whichever comes first. Tickets are available now for $25 each, or five for $100, 12 for $200, and 35 for $500.
Proceeds from the raffle will be used to support two key initiatives:
Bob's SoundSchool – The SoundSchool has inspired nearly 25,000 elementary school students nationwide through the science of sound, stimulating critical thinking using a curriculum based in Bob's lifework.
The Moogseum – an immersive, experiential museum in Asheville, NC, which brings Bob Moog's pioneering legacy – and the science of sound and synthesis – alive for visitors of all ages.
---