At The 2023 NAMM Show, held April 13-15, Black BT introduced the SusEx Pedal, the first pedal that can sense your foot position to automatically and seamlessly switch between a footswitch (eg. SUSTAIN / NOTE TRIGGER) and continuous control modes (eg. EXPRESSION / CUTOFF).
Black BT claims its SusEx is the world's first wireless combination sustain and expression pedal, and that it could revolutionise your keyboard performances and even speed up your studio workflow.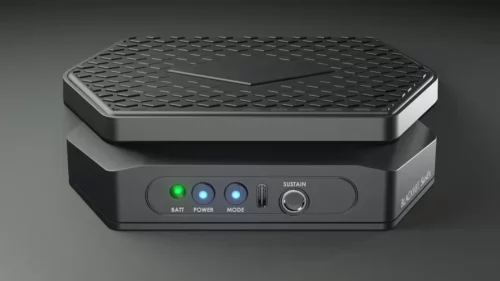 In live performances, the SusEx Pedal eliminates the need for multiple pedals on stage and creates a natural way to creatively "play" multiple pedal parameters without stomping switches or moving back and forth between multiple single-parameter pedals.
It works wirelessly via BLE MIDI (Bluetooth Low Energy) and can also be simultaneously used as a wired sustain pedal thru a mono quarter inch to work with a second keyboard instrument.
It can connect to any keyboard workstation with only USB MIDI via the Black BT HubBLE App (iOS / Android) that makes any such setup BLE MIDI enabled, with up to two pedal connectivity.
The SusEx Pedal is available to pre-order for $149.99, with shipping expected to be in June 2023.
---