Avid makes its pitch to loop-based music makers. Pro Tools Sketch: industry-standard DAW gets Ableton Live-style clip launching and a free iPad app, but will it convince you to switch?
Like many other DAW developers, Avid has introduced an Ableton Live-style clip launching window in Pro Tools. Known as Pro Tools Sketch, this is also available as a free iPad app.
Pro Tools has long held quite a distinct position within the DAW market. In certain circles it's something of an industry standard – still the go-to application for a lot of larger recording studios and producers who regularly record bands or large-scale projects. However, it has far less of a foothold among dance music producers and home studio musicians, who tend to gravitate towards the likes of Live, Logic, Cubase or FL Studio.
Recent years have seen Avid make moves aimed at addressing this latter fact. The primary way it's done this is through the launch of Pro Tools Artist, its most affordable tier, which offers a slightly scaled-back version of the DAW with more emphasis on virtual instruments and a generous library of loops. Now, with the launch of Pro Tools Sketch – part of the 2023.9 update – Avid is making an even bolder play for the Logic and Live market.
On desktop, Sketch is available as a dedicated window within all versions of Pro Tools (including Artist), and is designed to function as a self-contained music making environment. There are various ways, however, to integrate it with Pro Tools' traditional timeline.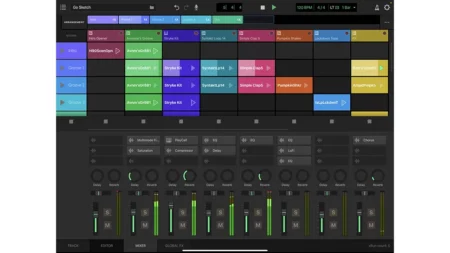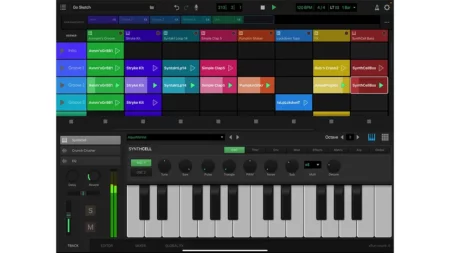 Sketch is focused around a clip launching workflow that owes an obvious debt to Ableton Live. However, Sketch also has whiffs of Apple's GarageBand's Live Loops and Touch Instruments.
In its current state, Sketch offers a significantly pared-back take on the Pro Tools toolset. It enables users to create using up to 16 tracks of audio or MIDI clips and an unlimited number of scenes.
Tracks can make use of an included 1GB+ library of loops and samples, along with over 30 instruments for Avid's Playcell sample player and more than 100 presets for the SynthCell virtual synth. There are also nine effects that can be applied to individual tracks. Simple audio and MIDI editing tools enable users to program and adjust their loops.
The main drawback compared to working with the full DAW is a lack of plugin support, although Avid tells us that AAX plugin support is on the roadmap for the near future, for the desktop version of Sketch at least. Given Pro Tools' use of the AAX format, it will be interesting to see if and how plugin support might come to the iOS version, which would likely need to rely on Apple's AUv3 format.
The most appealing aspect of Sketch right now is how seamlessly it works with the main Pro Tools timeline. While the Sketch window has its own clock/transport, it can be synced with the main Pro Tools transport at a click of a button, enabling users to trigger loops and make longer recordings on the timeline simultaneously. Clips can also be dragged to and from Sketch, although in the current version this results in MIDI parts being rendered to audio in the Pro Tools timeline.
Given its slightly limited nature, it's difficult to imagine Sketch luring across Logic, Live or even GarageBand users by itself. Similarly, those who currently use Live (or possibly Bitwig Studio) alongside Pro Tools are unlikely to be swayed.
As an addition to the overall Pro Tools workflow though, Sketch represents a significant step forward, and could convince those who dabble in or are curious about the DAW to take another look. Avid is being open about this merely being the first step on a long roadmap too, so Sketch is likely to grow and expand with future updates.
And of course, this is all great news for existing Pro Tools users. The Sketch iPad app is totally free to download on the App Store, so they now have a purpose-built jamming and composing tool that can be used anywhere. Projects created in Sketch are saved using a new .ptsketch file format that includes all audio and MIDI clips, and these can be emailed or sent via the cloud for transfer between iOS and desktop.

In other big Pro Tools news, Avid is reinstating the sale of perpetual licences for all Pro Tools tiers. Regular users will be aware that recent years have seen the company pivot to a purely subscription model for the DAW, which suits some more than others.
As of now, you can once again buy Pro Tools outright, but only via official Avid resellers. Prices range from $199 for the Artist tier up to $1,499 for Pro Tools Ultimate.
Find out more about Pro Tools Sketch on the Avid website.
---