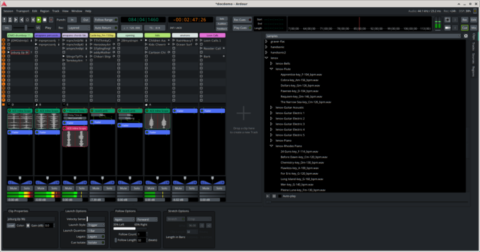 Developers or Ardour – an open source digital audio workstation (DAW) – have release v7, an update that they say introduces major new features for the software, as well as substantial internal engineering changes.
Ardour 7 introduces Ableton Live-inspired Clip Launching, MIDI editing improvements, support for Apple Silicon and more.
Clip Launching
The biggest visible change in Ardour 7.0 is the arrival of "clip launching",  similar to the workflow pioneered by Ableton Live. Clip launching lets you experiment with combinations of various loops and one shot samples, with all sounds appropriately time-stretched to fit the tempo map of the session, and start/stop quantized to the groove.
In addition, unlike some other DAWs, MIDI clips in Ardour can have 16 MIDI channels, and every clip can have its own patches (sounds) assigned. You can use multi-timbral MIDI files for various effects, including layering or "true flams" (same note, different channels),
With this release, only Ableton's Push 2 surface can be used as a controller to control cues, but the developers say that future releases of 7.x will bring support for Novation Launchpads and other devices.
While Ardour's clip launching behavior was inspired by Ableton Live, there are differences, outlined on the Ardour website. Find out more on version 7 at the Ardour website.
---