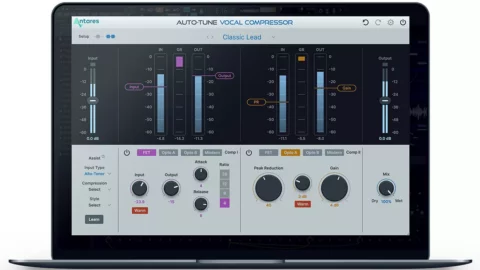 Not content with just automatically tuning your vocals, Antares now wants to compress them for you. Auto-Tune Vocal Compressor is billed as "the world's first dual-stage vocal compressor plugin with machine learning," and promises to analyse your track and suggest "optimum" settings that you can use as a starting point.
The plugin actually stacks two compressors, each of which can access four popular compression styles (FET, Opto A, Opto B and Modern). Once it is done its best to automatically find the right settings you can go ahead and tweak them to taste.
Alternatively, you can browse the included artist presets, which cover a range of vocal styles and genres. The Warm feature can be used to apply tube saturation and harmonics to vocals across one or both compressors.
"We're very excited to release Auto-Tune Vocal Compressor, delivering another essential tool for today's most successful professionals and tomorrow's most promising creators," says Antares CEO Steve Berkley. "By combining the only dual-stage vocal compressor plugin in the world with the power of advanced machine learning, we've created a must-have tool for anyone working with vocals, whether you're experienced or a beginner."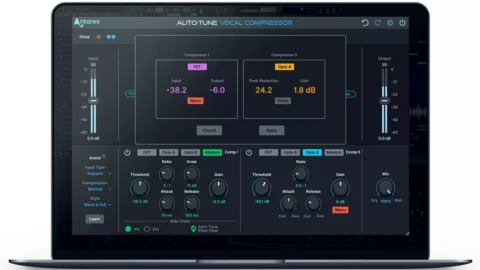 Auto-Tune Vocal Compressor (PC/Mac, VST/AU/AAX) is available at no extra cost for subscribers to Auto-Tune Unlimited, which costs $25 a month or $175 a year. You can also buy a perpetual licence for $179 – this includes one free year of Auto-Tune Unlimited. A free 14-day trial to Auto-Tune Unlimited is available to everyone, regardless of previous trials or subscriptions. Find out more on the Antares website.
Das Keyboard 6 Professional - Begin to enjoy your modern workday.
Jazz Up Your Valentine's Day With Filmora
Filmora 12
Edit Anywhere,in Every Way.
New Year's Eve Party
Sam Ash Holiday Deals
AmpliTube 5 MAX $/€99.99 deal
MAX Madness - up to 83% off MAX music software bundles
TONEX Pedal
Christmas Tree Video
---