1010music is called Razzmatazz "the world's juiciest groovebox": mini FM percussion synth promises to blow larger rivals a raspberry
It is a third model after Lemondrop and Fireball. The Razzmatazz promises "effortless sequencing, slamming samples, and FM synth drum sounds".
We are told that this is "the world's juiciest groovebox," and is capable of "taking on opponents twice its size and giving them the raspberry".
Beats can be sequenced in realtime using the eight touchscreen pads, or you can plug in your favourite MIDI pad controller and bash them out on that. Additionally, you can create up to 16 patterns, and the 64-step sequencer enables you to view pad states and steps simultaneously.
Each drum sound is created using any combination of two FM oscillators and a WAV file. You also get two filters, two envelopes, a resonator, a snap generator and three additional effects.
Other features include 120 preset kits and sequences, and you can bring in your own WAV files either by importing them via SD card or recording directly into the line input. These can be up to 30 seconds long.
Flexible power options from USB-C, and further connectivity options include MIDI I/O, clock in and line out, all via mini TRS ports. As well as the two-inch touchscreen, you also get two knobs and four buttons.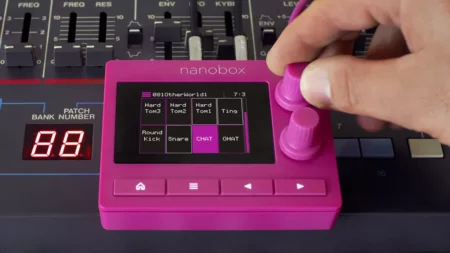 Features:
Perform with 8 drum and percussion pads using MIDI pads or the touch screen
Make beats right out of the box using 120 preset kits and sequences
Explore a huge range of presets and sounds from world-class sound designers—including dub, techno, IDM, hip hop, classic rock, indie pop, soul, and more
Tap or swipe to create rhythms using the Super Stepper visual sequencer, and see the state of all 8 pads across 16 steps simultaneously
Record long sequences up to 64 steps, with steps sizes from 1/64 to 8 bars
Adjust primary parameters for each drum model using macro controls
Design your own percussion sounds by combining FM synthesis and WAV drum samples
Sculpt and fine tune the sound of each drum pad using filters, envelopes, distortion, a resonator, snap transient generation, bit crushing, and rate crushing
Add depth and color to your drum sounds using delay, reverb, and a cabinet distortion
Record via line input to craft new pad sounds and create samples up to 30 seconds long
Load your own WAV files via micro-SD
Integrate razzmatazz seamlessly with other synths, drum machines, and audio devices
Quickly and easily map MIDI controls to macro parameters and mixer settings
Make music anywhere thanks to a compact and nearly indestructible design
Flexible power options from USB C connector
Mini TRS connections for MIDI in and out, clock in, line in and line out
2″ touch screen, 2 knobs and 4 buttons in a 3.75″ x 3″ x 1.5″ package
The Nanobox Razzmatazz is available for $399.
Find out more on the 1010music website .
Up to 50% Off Das Keyboard Black Friday & Cyber Monday Sale!
Shop Now
for Up to 60% Off Discounts.
UNO for All - Save up to $/€200 on your choice of analog synth and drums
Strum, Stream and Save - Save up to 50% on a huge selection of iRigs
MODO Friday sale - MODO BASS & MODO DRUM bundle starting from $/€99.99
Up to 64 sound libraries free - SampleTank Squared
IK Black Friday MAX deals
AmpliTube 5 MAX $/€99.99 early Black Friday deal
---