ROLI today has introduced the Seaboard Block M, an updated and refined version of the Seaboard Block expressive MIDI controller.
Seaboard Block M is equipped with ROLI's 5D Touch technology, offering intuitive sound shaping through gestures such as Strike, Press, Glide, Slide, and Lift.
ROLI says that the upgraded Seaboard Block M offers enhanced consistency and expressive control through the latest firmware, enabling users to personalize their velocity curve via the ROLI Dashboard. The new MIDI output also allows for integration and direct connection to hardware synthesizers.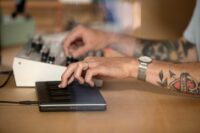 What's new with the ROLI Seaboard Block M:
New MIDI out
Advanced customization of keywave response, offering more nuanced MPE control.
Improved velocity response curve.
'Refined' durable design
Switch between your saved Equator2 or ROLI Studio presets by holding the side button and pressing the octave left and right buttons.
Seaboard Block M integrates with most leading DAWs — including Ableton Live 11+, Logic Pro, and Cubase, fully harnessing the instrument's MPE capabilities. It also can connect directly to hardware instruments through a new MIDI Out port, and to additional devices via USB-C.
Using 'DNA' connectors, you can also connect the Seaboard Block M to other ROLI products to create larger controllers. Other features include 10+ hours of battery life, and 15-meter Bluetooth range.
Seaboard BLOCK M is available to pre-order for $349. The Seaboard Block M will ship from March 2024.
---