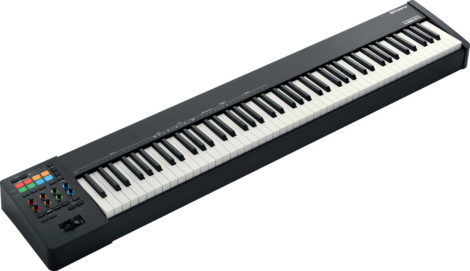 Roland A-88MKII 88-Key MIDI Keyboard Controller
The Roland A-88MKII MIDI keyboard is the first keyboard controller, and Roland is also one of the first companies to announce the MIDI 2.0 ready instrument – A-88MKII MIDI keyboard controller.
The 88-note premium keyboard comes with Ivory Feel PHA-4 keyboard, and a rigid, wooden component. The instrument also features high-resolution sensing – 'lightning-fast response' and performer has the option to personalise the sensitivity according to taste and touch, and to split the keyboard into three user-definable zones, each of which can be used to play a different sound or instrument. Additionally, there are also layering options, along with an arpeggiator.
The instrument has three user-definable zones, a pitch / mod lever, RGB-lit knobs and eight multipurpose pads that can be customized to trigger commands and events. There is also a USB-C connectivity, which according to Roland is necessary to eliminate the need for a power supply, and assures that the Roland A-88MKII is ready to take full advantage of all the high-resolution control and extended capabilities that MIDI 2.0 has to offer. "MIDI 2.0 is just more MIDI," says the association.
Look out for it, it is available now.
---