Electronic Keyboards
Digital Pianos
Portable Keyboard
Synthesizers & Workstations
Free shipping on most items over $9.99!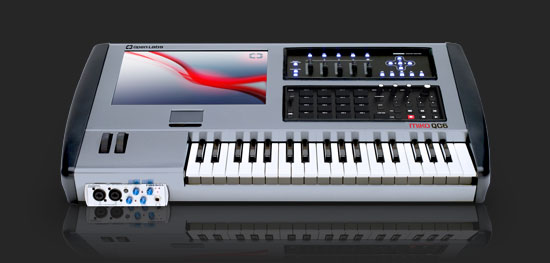 World-renowned American company Open Labs has brought the Gen6's Q series Professional Audio Production Instrument, Miko QC6 to the next level of realism. The result is a simple, all-in-one studio powerhouse and one-of-its-kind in music production. The Open Labs Miko QC6 is a robust Production Station built for studios, producers and artists-on-the-go, which offers over 10,000 high-quality sounds.
The Miko QC6 features 37-key semi-weighted Synth-Action keyboard, with after-touch response, powered by the 2010 Intel® CoreTM processor family, with more than 10,000 high-quality preset sounds, new Bump MPTM ; includes fully assignable pads, note repeat, fixed level fader, transport controls, chromatic mode, hold, pad tune, multiple groove preset and eight engines with 24 patterns per engine, full DAW capabilities, Open Labs live virtual instrument host RiffTM, 15-inch touch screen interface, and running Windows 7TM OS.
The Open Labs Miko QC6 optimized on Windows 7TM Operating System for true Open Platform Capability. Powered by 2010 Intel® CoreTM processor and with 15-inch LCD touch screen, 37-key, weight merely 39.2 lbs and running on Windows 7TM OS, the Miko QC6 is specifically designed for maximum studio functionality and keyboard playability. The new Bump MP enables user to create beats and trigger any sound, loop or sample in real-time. RiffTM is a multi-effect and multi-instrument rack for sound designers and musicians to create any number of virtual controls in real-time that can be mapped to various effects and other parameters.
The Open Labs Miko QC6 can also be use as a real time multi-effect processor. Imagine having your studio at your finger tips while performing live. The ability to work from anywhere in the world on a single piece of equipment helps keep artists, musicians and producers flowing smoothly and creating a recognizable personality in their music. Load your Open Labs Miko QC6 portable keyboard with the instruments, samples or loops and effects that you love, and make it your own!

Digital Pianos
Electronic Keyboards
Organs
Pianos
Player Pianos
World Instruments
Electronic Music
Audio Samplers
Audio Sequencers
Drum Machines
MIDI Interfaces
Production Stations
Sound Modules
Tabletop Synthesizers
Das Keyboard High-Performance Mechanical Keyboards
The World's First Cloud Connected Keyboard.
---