At The 2023 NAMM Show, Nektar introduced Panorama CST Midi Controlller. With the Panorama CST MIDI controller, Nektar hopes to make music production a lot less about staring at a computer screen.
Relying on your mouse and computer screen for producing your music has never been ideal, but with the Panorama CST controller, Nektar might just be about to bring the fun back to mixing.
Yes, making music on a computer is as frustrating as it is astonishing. You have all that power, all of those tracks and instruments and you are often tweaking it all with a mouse and pointer. Someone once said it is like conducting an orchestra through a letterbox, and if they didn't, we'll take the credit.
MIDI controllers have come and gone, of course, but with the Panorama CST, Nektar looks like it has come up with a controller that is as intuitive as it is functional.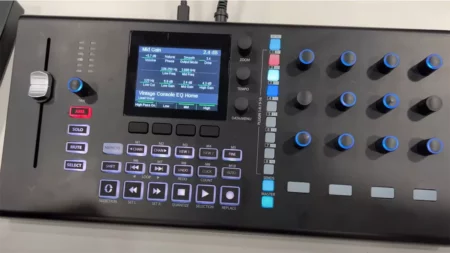 It is a channel strip controller, so focusses on the banks of effect you have loaded per channel, but can also navigate around your DAW's tracks and control many of its features. CST uses automatic colour coding – Panorama mapping – to make its controls that bit more intuitive. Select a compressor, for example, and the 'red' colour associated with it will light up on the CST controls that can be used to tweak it.
Another neat feature is CST's ability to make automation that bit easier, all via a single fader that enables you to switch the read and write automation in and out, and then add further parameter tweaks.
Panorama CST currently has Logic integration – as shown in the video – but Nektar plans to bring the same level of compatibility to all major DAWs, including Bitwig Studio, Ableton Live and more.
Panorama CST price and availability are TBA. You can head on over to Nektar website if you wish, but there's no info there yet.
---