this.is.NOISE inc has launched an Indiegogo campaign to fund production of the MIDI Blaster, a MIDI controller featuring 4 infrared sensors and RGB LED's, designed to give you gestural control over 4 effects.
MIDI Blaster uses these infrared sensors to track your hand across 4 points, then sends the corresponding CC data to your DAW or synth to control 4 effects simultaneously, yet individually. The developers say that "The result is the potential for incredible soundscapes at the tilt of your hand, offering a splash of RGB goodness and musical creativity."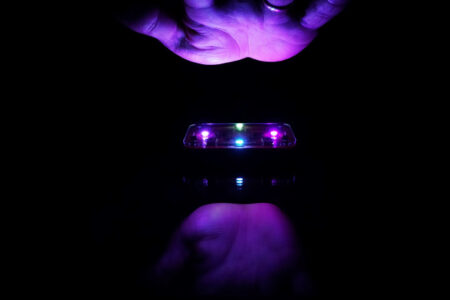 Features:
4 Infrared Sensors and RGB LEDs
2 Assignable Buttons
USB MIDI + TRS MIDI Jacks
Rigid Black Aluminum Casing
Acrylic Faceplate
CC or MPE Message Support
LED Effects
Preset Support
The MIDI Blaster is available to campaign backers with pricing starting at $99-$124.99. The campaign reached its funding goal in 2 hours of launching.
*Note that crowdfunding campaigns can involve risk. Check the Indiegogo website for details.
---