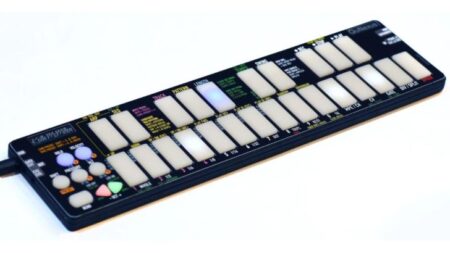 Oversynth.com has introduced a limited series of overlays for the Keith McMillen Instruments QuNexus MIDI controller.
All overlays feature labelling for the QuNexus version 2 firmware and will works with both the original black QuNexus and the new 'Red' version.
The overlay designs feature large fonts and high contrast graphics, wherever possible to help with viewing in low-light. And they are printed on a sturdy polyester sheet, to help minimize reflections and glare.
All overlays do not have adhesive backing, so they can sit temporarily over the QuNexus and then be removed if you desired. They ship with a strip of optional adhesive, though, for a more lasting placement. The adhesive is low-tack and will not damage the surface of the QuNexus.
Overlays for the QuNexus are available now for $25.
Up to 50% Off Das Keyboard Black Friday & Cyber Monday Sale!
Shop Now
for Up to 60% Off Discounts.
UNO for All - Save up to $/€200 on your choice of analog synth and drums
Strum, Stream and Save - Save up to 50% on a huge selection of iRigs
MODO Friday sale - MODO BASS & MODO DRUM bundle starting from $/€99.99
Up to 64 sound libraries free - SampleTank Squared
IK Black Friday MAX deals
AmpliTube 5 MAX $/€99.99 early Black Friday deal
---