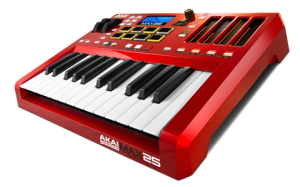 The Akai Professional MAX25 Keyboard Controller features a 25-key USB/MIDI/CV Controller with Semi-weighted Action, Aftertouch, CV/Gate Outputs, 8 x MPC Pads, 4 x Touch Faders, and Akai Connect Mapping Software.
The MAX25 comes with AkaiConnect automatic-mapping software and Mackie Control® and HUI® modes for instant compatibility with many DAWs. The MAX25 also features an expanded arpeggiator and a step sequencer, which is ideal for sequencing effects. There are also inputs for footpedals for adding sustain, making the MAX25 ideal for dedicated keyboard players as well as synth-lovers and music producer.
This new addition to Akai's Max series offers the same great feeling keyboard but in a compact package that will fit perfectly in front of a laptop on stage. The difference between MAX49
and MAX25 only lies in the number of onboard controls.
"This is a controller that's made to be in front of a crowd," said Dan Gill, Akai Professional Product Manager.
Akai Pro MAX49 49-Key USB MIDI Keyboard Controller with CV and touch faders
---