Ableton has joined the likes of Akai and Native Instruments by taking a version of its software completely standalone and packing it into a piece of hardware. The Push 3 takes Ableton Live standalone – DAW can now be used with or without a computer.
Ableton today introduced the latest version of their hardware instrument, the Push 3, which features expressive MPE pads, new connectivity and the ability to run Live standalone. A controller-only version has also been announced, with the option to upgrade it to support standalone usage at a later date.
The new Push 3 offers 64 MPE-capable pads that can detect finger pressure and placement across the X and Y axes for fine, per-note control. Which means that you can get far more expressive with your playing, adding the likes of bends and slides or applying effect or filter changes to just certain notes within a chord. In addition, you can trigger multiple articulations from a single pad.
The standalone version of Push 3 features many of familiar Ableton Live instruments and effects, and can also host your own Packs and sample libraries but, there's no support for third-party plugins. WiFi connectivity means that you can transfer sets between Push 3 and Live wirelessly.
The controller version of Push 3 has a built-in audio interface and CV/gate connectivity for hooking up to Eurorack and other modular gear, and MIDI is also included.
The upgrade kit to convert a controller-only Push 3 to a standalone one and the good news is that the processor, hard drive and battery are replaceable, so hopefully you'll be able to ensure that your hardware keeps pace with the latest technology.
The standalone Push is powered by a specially-adapted Intel NUC Computer Element, which combines a processor, RAM memory and WiFi in a credit-card-sized component.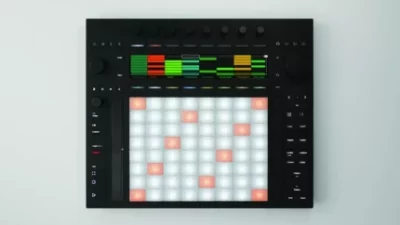 Key Features:
Expressiveness – Push's 64 MPE-capable pads detect finger pressure and placement across X and Y axes for nuanced per-note control. Play bends and slides, filter or affect some notes within a chord, or play multiple articulations within one pad.
Connectivity – Plug external instruments, synths and effects straight into Push's built-in audio interface to record directly into your Push set or into Ableton Live. Plus, send gate and CV signals to your modular gear for a combined Eurorack/Push setup, or use your Push with class- compliant MIDI gear.
Standalone playability – As a standalone instrument, Push is designed to sit at the heart of a laptop-free music setup. With a built-in battery and storage, you can make music without plugging in a single cable, using instruments and effects you know from Ableton Live, along with your own Packs and sample libraries. Connect to WiFi to transfer sets back and forth between Push and Live.
Configurability – Push is available in two configurations to suit different needs and budgets. With a processor, Push functions as a standalone instrument. Without a processor, Push needs to be connected to a computer. If you buy your Push without a processor, you can add one yourself later using the Upgrade Kit. And you can replace the Push's processor, hard drive and battery later, so you can keep up with the advance of technology.
Other Features:
Runs Ableton Live 11 standalone
Built-in battery
Integrated audio interface features ADAT in/out
Modular control with 4x CV Out
Connect a second controller via USB-A for even more control
WiFi connectivity
Run Custom Max-for-Live Devices
Push 3 is available now with prices set at $1,999/€1,899 for the standalone model and $999/€949 for the controller version. Upgrade Kits will be available in late 2023, and will cost $1049 /€ 999. Find out more on the Ableton website.
---