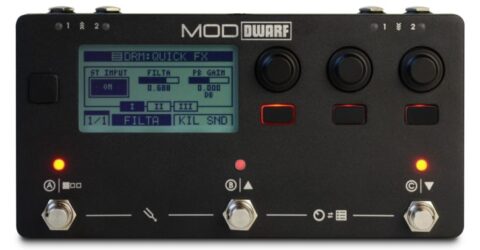 MOD Audio, the 'rebooted' MOD Devices, informed us that it's now shipping orders to Europe, its established market, and for the first time to Japan, a new new market, as a result of a new distribution agreement with Electori. The MOD Dwarf, the company's flagship product, can now be purchased at major retailers in these regions.
The company has also partnered with Scott Simon, of Sound Strategy Partners, with the goal of expanding into the United States.
"We are thrilled to be shipping again our products to Europe, our established market, and to have formed a partnership with Electori to expand to Japan, our exciting new market," says MOD Audio's Co-Founder and CEO, Gianfranco Ceccolini. "I am very happy to welcome Scott Simon as we continue to expand our reach and bring the MOD Dwarf to even more musicians worldwide."
MOD Dwarf is a dual-channel multi-effects pedal. It lets you used 400+ free and commercial plugins, which can be patched using a browser-based visual interface that lets you split, join and feedback signals in a modular fashion. Find out more on the MOD Audio website.
---