At Superbooth 2023, being held in Berlin May 11-13, Endorphin.es is showcasing two new pedals, its new Ghost and Golden Master effect.
Ghost and Golden Master, both of which are scheduled to ship this fall, see the company expanding its product range into the floor-pedal format.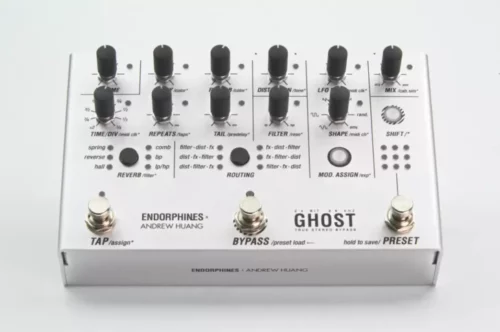 The Ghost Pedal, which is suitable for both live performance and studio work, goes well beyond what is possible with traditional pedals and stomp boxes, according to the company.
What they say about it:
"The Ghost Pedal combines high quality distortion, reverb, delay, filtering, and LFO control — all of which can be combined and implemented using presets and MIDI control, with or without an expression pedal. The result is unprecedented control over effects and tonal shaping.
Developed in combination with producer Andrew Huang, the Ghost Pedal allows users to change tonal response or signal chain routing of any signal — from an overdriven electric guitar to a droning synth voice — at the press of a button.
From earth shaking subharmonics and distorted drones to angelic shimmering reverbs and anything in between, Ghost is a pedal for the adventurous sound designers and the most demanding guitar and synth players. An intuitive user interface, coupled with hands-on control and preset storage, allows composers and performers to stay in the moment and focus on the performance."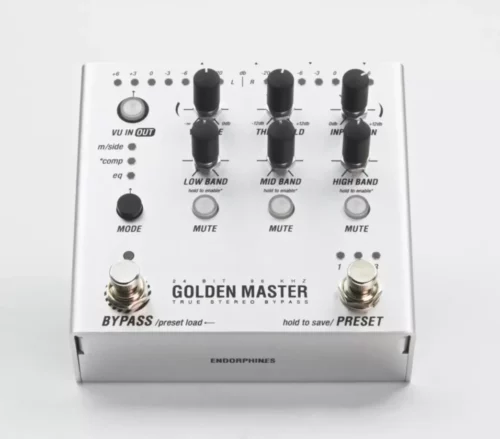 The new Golden Master Pedal combines the company's experience in electronic music live performance, with the goal of imparting effective dynamics and EQ into the signal chain before it hits the PA.It features 24 bit / 96 kHz I/O, three-band equalization, and direct and mid-side compression options.As with The Ghost Pedal, the Golden Master Pedal has been built with user control in mind: a dedicated input for an expression pedal allows master volume control, while two foot switches allow cycling through presets or activating signal bypass.
Finally, a one-knob compressor control enables users to dial in exactly the right amount of compression during a performance. Find out more on the Endorphin.es website .
---