The Boss RV-200 Reverb could be a perfect balance of features, size and price, with 12 different reverbs, high and low filters and 127 presets.
BOSS has introduced the RV-200, a hardware reverb pedal that offers 12 versatile reverb types, for "everything from subtle spatial color to complex, dreamy textures".
The RV-200 is much smaller than the company's #CommissionsEarned RV-500, more affordable but still packing the algorithms and editing in. Say hello then to the long-awaited RV-200.
It also features a new reverb type to the part of 12 different modes; Arpverb. And with the level of sound editing available, it is good to see Boss has provided 127 memories to save your sounds, along with two footswitches for fast access to different types.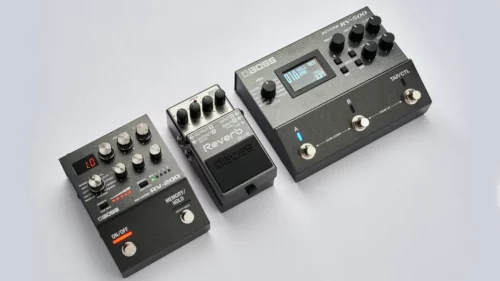 The RV-200 doesn't need to lean towards classic plate, spring and hall reverbs or complex ambient sounds because it wants to do it all.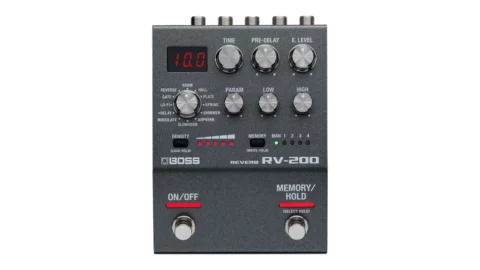 The full list of modes finds Shimmer, Arpverb, Slowverb, +Delay, Modulate, Lo-Fi, Gate and Reverse alongside Room, Hall, Plate and Spring for a comprehensive selection.
Controls over these sumptuous sounds can go deep with reverb time, effect level, predelay, variable high and low filters, plus a density control to adjust the 'weight' of the sound.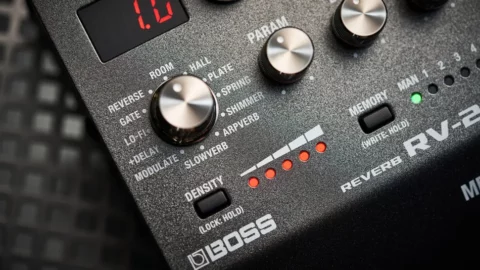 The RV-200's parameter knob also provides access to settings that are unique to each specific type of reverb. Further flexibility is provided with the footswitches that can be assigned for different functions; bypass the effect, scroll through memories, and activate a hold function for infinite sustain (or as long as you want to hold it). You can even assign 'performance effects' to a footswitch including Warp, Twist, and Fade.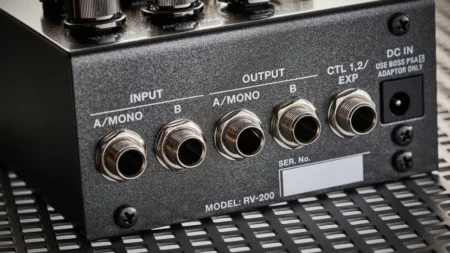 As we would expect from a Boss pedal in 2023, many of the parameters can be assigned to an external expression pedal and MIDI is provided via mini TRS inputs. Via MIDI players can connect a number of Boss 200 series pedals together and select presets on them simultaneously to explore huge potential.
What they say about it:
"The RV-200 delivers inspiring reverbs and premium sound in the streamlined BOSS 200 series design. Twelve versatile reverb types—including the newly developed Arpverb—provide everything from subtle spatial color to complex, dreamy textures for ambient explorations. Quickly dial in sounds with the fast-access interface. Save favorites in 127 memories. And take performances to the next level with flexible onboard footswitches, deep external control support, and head-turning creative tools like Warp, Twist, and more."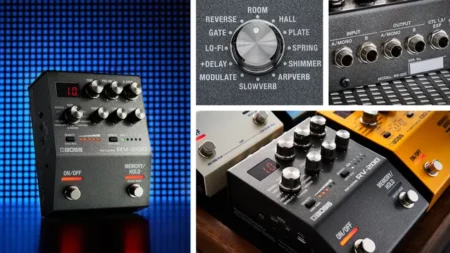 Features:
"Class-leading sound quality" with 32-bit AD/DA, 32-bit floating point processing, and 96 kHz sampling rate
Twelve distinctive reverb types, including the newly developed Arpverb
Fast, easy operation with hands-on controls
127 user memories for storing sounds
Density control with six stages
Param knob to access extended functions within each reverb type
Selectable carryover for maintaining reverb trails when switching presets or bypassing the effect
Stereo I/O with wet/dry and dry mute output options
Two assignable footswitches
Expressive Hold, Warp, and Twist effects available via footswitch control
Deep external control support via footswitches, an expression pedal, and TRS MIDI I/O
Connect and control multiple 200 series pedals at once via MIDI
Panel lock function to avoid accidental sound changes
Powered via three AA batteries or optional AC adaptor
The BOSS RV-200 reverb pedal is available now for $269.99/ /£259
"As an Amazon Associate, I earn from qualifying purchases"
---