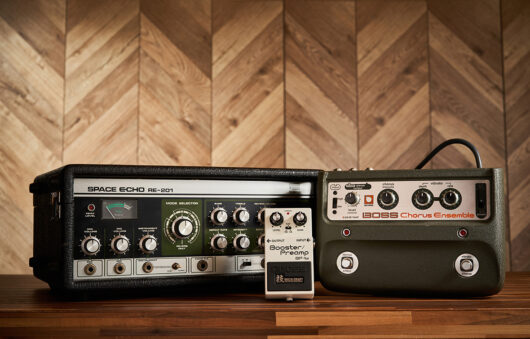 BOSS has a long and colorful history when it comes to preamps. In fact, the very first BOSS-branded product arrived in 1974 in the form of the B-100 Preamplifier, which was only available in the US market. Intended for acoustic guitar, this rarity featured Volume, Treble, and Bass controls. Developed in the early '80s, the FA-1 FET Amplifier sported the same array of knobs along with a low-cut switch.
Preamps may not be the first thing to mind when discussing chorus, delay, and reverb. However, you'll find two of the guitar world's best in the BOSS CE-1 Chorus Ensemble and Roland RE-201 Space Echo. For decades, music makers in the know have been plugging into the hidden power of the CE-1 and RE-201 for their analog preamp circuits.
The vintage BOSS CE-1 Chorus Ensemble and RE-201 Space Echo are legendary for their inspiring and influential effect sounds. But they're also loved for their variable analog preamp circuitry, which instantly infuses any guitar tone with character, body, and richness.
Now, for the first time, these classic sounds are available in tandem with a clean, powerful booster in the form of the BP-1W Booster/Preamp—2023's addition to the esteemed Waza Craft range.

"From the clear and chimey preamp tone of a vintage BOSS CE-1 to the darker, vibe-filled richness of the Roland RE-201's preamp section, the BP-1W captures some of the coveted sounds in the BOSS catalogue," boasts the company.
The NAT mode seems like a very useful compliment to this duo in offering an 'ultra-clean boost' that doesn't add the colour of the other two. The gain control delivers saturation tailored to each mode.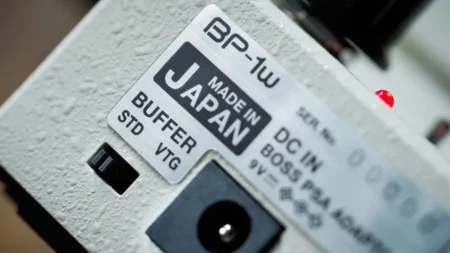 In addition, there are Standard/Vintage input buffer modes with 'drastically different tonal responses'.  The Vintage mode offers a warmer and smoother response while the Standard buffer is always engaged, even when the pedal is bypassed.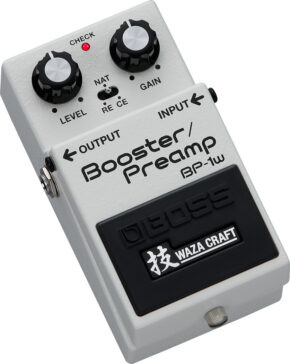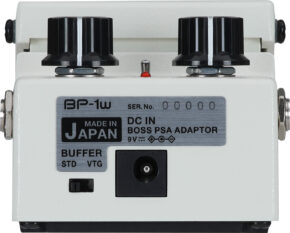 Features:
Waza Craft innovation for a premium analog tone experience
Premium booster and preamp pedal with analog circuitry derived from legendary BOSS and Roland effects
Versatile design with three selectable modes
CE mode reproduces the bright, bell-like preamp sound of the BOSS CE-1 Chorus Ensemble
RE mode reproduces the fat, warm preamp sound of the Roland RE-201 Space Echo
NAT mode provides a natural clean boost with minimal sound coloration
Gain knob controls the amount of saturation introduced into the signal
Level knob for controlling the overall volume and driving the inputs of amps and other pedals
Selectable standard or vintage input buffer with different tone and response characteristics
Made in Japan
BOSS five-year warranty.
The Boss BP-1W cost $169.99 / £155 / €179.99. Find out more on Boss website.
---