Behringer today introduced the Dual Phase hardware phaser pedal – a knockoff of the classic 1970's Mu-Tron Bi-Phase Dual Phase.
Like the original Mu-Tron Bi-Phase, the Dual Phase features two independent 6-stage phasor circuits, two sweep generators, and a number of additional controls to let you create a wide variety of phasing effects.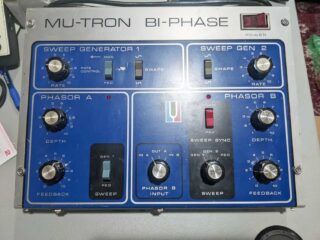 Behringer's pedal copies the schematics and look of the original Bi-Phase. While the original was a desktop unit with a remote foot controller, making it easy to tweak the effect settings, the Behringer version treats the entire unit as a foot pedal.
What Behringer say about DUAL-PHASE:
"The DUAL-PHASE is an authentic recreation of the popular phase shifter from the '70s. It features 2 phase shifters, each with their own RATE, DEPTH and FEEDBACK controls, that you can then run in series or parallel. Each phase shifter also allows you to switch the wave shape oscillator between sine and square wave.
The DUAL-PHASE brings all the amazing features from the original '70s design, plus a few modern ones, that are sure to enhance your pedal board or synth setup."

Behringer's knockoff will be a welcome addition for many, given that the original now sells for more than $2,000 used.  Behringer says that the Dual Phase is available now for $159.
---