AIR Music Technology has announced the release of Sprite, a multi-effects plugin that's said to be inspired by the 'studio hardware staples' of the '80s and '90s.
Before software did almost everything, producers relied on chunky, rackmount multi-effects processors like the Eventide H3000 to apply effects like reverb, chorus and delay. Sprite is reportedly a 'modern take' on machines like these. AIR Music Technology says the plugin does things 'not possible in a hardware unit'.
Sprite features an array of effects under its virtual hood including a reverb with eight room characters, a BPM-syncable stereo delay and a comprehensive distortion section with nine distinct distortion models.
There's a raft of modulation options, offering chorus, phaser, flanger, flutter, wow, tremolo and auto-pan, and an onboard pitch-shifter too. The compressor section will help you shape the signal's dynamics while the EQ can finesse the plugin's output without having to open up another window.
An interesting addition to Sprite that we don't see in every effects plugin out there is an envelope follower; this will scan incoming audio, using the signal's level to generate an envelope that modulates parameters like delay feedback and reverb amount. This means you can create responsive effects that evolve rhythmically in time with the sound that they're processing; imagine a delay that amps up the feedback on every hit of a drum beat and dies down in between hits, for example.


On first glance, Sprite's interface shares a simplicity with the increasing number of stripped-down, easy-to-use plugins that we've seen pop up in recent years; there are five large dials that control five effects, and a few faders for shaping the overall mix. However, Sprite promises to give you the best of both worlds, as those hoping for more control over their effects can thankfully open up a separate window (pictured above) that contains deeper controls for advanced sound-shaping.
Sprite Walkthrough Video: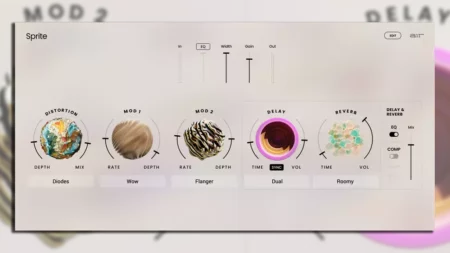 Features
Distortion section featuring nine distortion models with smoothing, hi/lo pass filtering and mix control.
Two modulation slots with eight classic modulation types. Choose between Flutter, Wow, Tremolo and Auto-pan in one slot, with rate, drift, stereo and depth controls as appropriate.
In the second slot, choose between Chorus, Multi-chorus, Phaser and Flanger with rate, depth, feedback, depth and mix controls as appropriate.
Dedicated and incredibly powerful delay and reverb section.
BPM syncable delay engine with Single, Dual and Cross modes, independent left and right time controls, feedback level and 24 feedback setups, width and mix control.
Reverb with eight distinct room characters, pre-delay, damp, time and volume controls.
Pitch-shifter with adjustable depth, assignable mix target, interval and algorithm.
EQ section with high and low cut and shelving controls.
Compressor section with assignable routing, attack, release and depth controls.
Width and balance controls.
Dedicated output EQ section featuring 31 character presets, plus a manual mode for detailed shaping of low, mid and high frequency content.
Envelope follower to automatically control delay feedback and delay & reverb mix based on incoming audio levels.
Final width, gain and limiter controls.
AIR Sprite is available for Mac and Windows in AU/VST/VST3/AAX formats. It'll set you back $39.99 until 14th August, when the price goes up to $79.99.
Find out more or download a 10-day demo on AIR Music Technology website.
---