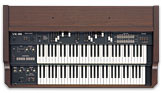 Digital Pianos
Electronic Keyboards
Organs
Pianos
Player Pianos
World Instruments
Electronic Music
Audio Samplers
Audio Sequencers
Drum Machines
MIDI Interfaces
Production Stations
Sound Modules
Tabletop Synthesizers
Das Keyboard High-Performance Mechanical Keyboards
The World's First Cloud Connected Keyboard.
The Roland VK-88 is a dual-manual Combo Organ featuring two 61-note manuals and incorporates VK-8 advanced Virtual Tone Wheel Technology, full Polyphony and Effects; Chorus and Reverb. The Roland VK-88 Tone Wheel Organ Sound engine comprises of COSM Amp IV (Vintage 1, Vintage 2, Clean and Solid Organ tone) and Rotary Speaker Modeling – model/simulate the sound of vintage rotary speaker.
The VK-88 weight approximately 39 Kg with maximum polyphony. The dual 61-note Waterfall keyboard has quick-firing keys to compliment players who choose to play organ using traditional organ techniques. Additionally, the VK-88 is further enhanced with light-sensing D Beam Controller with multi-color LED. This features produces infrared light for players to control even preset options like rotary speed, and enhanced real-time control of sounds.
In another word, the Roland VK-88 Combo Organ is built for Performers.
Digital Pianos
Electronic Keyboards
Organs
Pianos
Player Pianos
World Instruments
Electronic Music
Audio Samplers
Audio Sequencers
Drum Machines
MIDI Interfaces
Production Stations
Sound Modules
Tabletop Synthesizers
Das Keyboard High-Performance Mechanical Keyboards
The World's First Cloud Connected Keyboard.
---