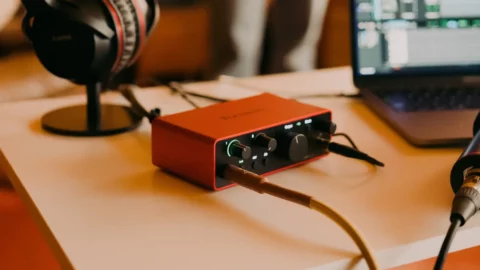 World best-selling audio interfaces reimagined as Focusrite launches Scarlett 4th Gen range. The Scarlett Solo, 2i2 and 4i4 have been updated with new preamps, converters and a number of useful features.
Focusrite has unveiled the fourth generation of its best-selling Scarlett range of audio interfaces. The 4th Gen lineup, made up of the Scarlett Solo, 2i2, and 4i4, has been bolstered with improved specs, upgraded parts and handy new features.
Audio circuitry in each of the 4th Gen interfaces has been re-engineered, with the addition of professional-grade 192kHz, 24-bit converters from Focusrite's flagship RedNet range; these provide an extended 120dB of dynamic range. 2i2 and 4i4 have been upgraded with new, remote-controlled preamps delivering 69dB of gain, while a redesigned headphone amp offers improved sound quality.
Focusrite have added a host of new features to the 4th Gen range; the most useful of these is Auto Gain, a function that scans incoming signal to automatically set gain at the optimal levels. Once set, the Clip Safe feature constantly monitors and adjusts gain levels in order to prevent clipping. The interfaces' Gain Halos, which display levels as a backlit halo around the gain knobs, have also been redesigned to provide output metering.
The Scarlett range's Air mode, which adds high-frequency sheen and presence to vocals and lead instruments, has been revamped and bolstered by the addition of a DSP-based Harmonic Drive mode that's said to imbue sounds with "console-like richness".
Each Scarlett interface arrives bundled with Ableton Live Lite and a three-month subscription to Pro Tools Artist, alongside a Hitmaker Expansion bundle that contains an array of plugins that includes Antares Auto-Tune Access and NI MASSIVE. The bundle also includes five free masters from LANDR and a two-month subscription to LANDR Studio, offering music distribution to streaming services.
The three interfaces in the Scarlett range vary in their I/O capabilities: Solo has one mic preamp and one Hi-Z instrument/line input, 2i2 has two of each, and 4i4 offers the same plus two fixed line inputs and four balanced outputs alongside MIDI input and output. The Scarlett Solo Studio and Scarlett 2i2 Studio bundles include either a Solo or 2i2 interface with CM25 MkIII studio condenser mic and newly redesigned closed-back SH-450 headphones.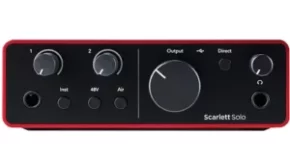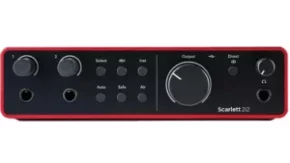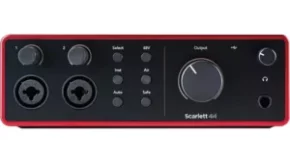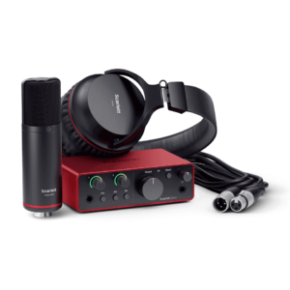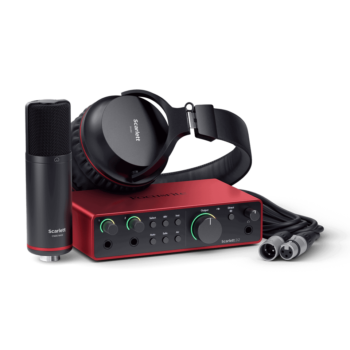 The Scarlett 4th Generation line available with the following pricing:
Solo – $159.99
2i2 – $229.99
4i4 – $319.99
Solo Studio – $289.99
2i2 Studio – $339.99
Find out more on Focusrite website.
---