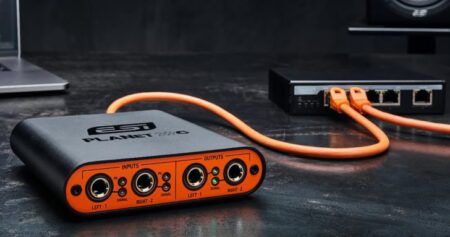 ESI has introduced the Planet 22c, a compact interface box that provides 2 analog input and 2 analog output channels at reference audio quality in a Dante IP audio network.
Dante is a standard for routing audio over IP, making it possible to send multiple channels of high-end audio over standard Ethernet cables.
The Planet 22c is equipped with 24-bit / 96kHz analog-to-digital and digital-to-analog converters, supporting balanced line audio signals with home (-10dBV) and professional (+4dBu) signal levels. This makes planet 22c ideal to interface any analog equipment such as a traditional mixer, studio monitors or PA speakers, synthesizers or other electronic instruments with the Dante world.
In addition, it can be powered directly from the Ethernet cable as a PoE (Power over Ethernet) device, besides  via the included 12V DC power adapter. This is perfect when using it in a remote location. It can also be integrated into a modern music studio when using the optional Dante Virtual Soundcard (DVS) software for PC or Mac.
Features:
Dante network audio interface with 2 analog inputs and 2 analog outputs
reference level audio quality for professional applications
supports -10dBV (consumer) and +4dBu (professional) audio levels for input and output
balanced analog inputs (TRS, 6.3mm, 1/4″)
BurrBrown PCM1804DB 24-bit stereo ADC with 110dB dynamic range (A-weighted)
maximum input level: +6dBV (-10dBV setting), +20dBu (+4dBu setting)
input frequency response: 20Hz to 20kHz +/- 0.1dB
balanced analog outputs (TRS, 6.3mm, 1/4″)
BurrBrown PCM1796DB 24-bit stereo DAC with 120dB dynamic range (A-weighted)
maximum output level: +6dBV (-10dBV setting), +20dBu (+4dBu setting)
output frequency response: 20Hz to 20kHz +/- 0.05dB
supports 44.1, 48, 88.2 and 96 kHz at 24-bit
latency based on network configuration, typically around 1ms
power supply via network cable (PoE / Power over Ethernet)
optional 12V DC power supply included
dimensions: around 10.5cm x 11cm x 2.5cm
weight: around 236g
The ‎ESI‎ planet 22c Dante audio interface is available now for  $279
---