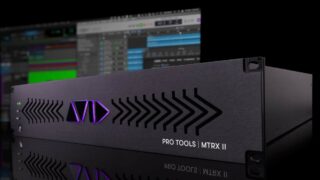 At The 2023 NAMM Show, held April 13-15, Avid announced a new all-in-one audio interface, Pro Tools | MTRX II, and introduced its new Pro Tools | MTRX Thunderbolt 3 Module.
MTRX II lets users capture all of the power of Pro Tools software-based workflows while gaining IO capacity, a larger routing matrix and more immersive monitoring capabilities. The addition of the new Thunderbolt 3 module brings the power of MTRX II and MTRX Studio interfaces to native audio applications, which can be used simultaneously with Pro Tools | HDX.
The new Pro Tools | MTRX II features include:
MTRX Thunderbolt 3 Module: This optional module delivers 256 channels of native connectivity on both Mac and PC machines. It connects to any DAW, expanding workflows to seamlessly route audio between Core Audio DAWs via Thunderbolt 3 to Pro Tools over DigiLink.
Integrated and expandable Dante: With 256 integrated Dante channels, users can connect any MTRX II audio source to any Dante network. This delivers a more versatile bi-directional workflow that leverages an Ethernet infrastructure to route audio between rooms and devices.
Fully customizable and increased IO Card count: Utilize all 8 option card slots in any combination with Avid's MTRX IO cards, including DigiLink, 8 channel Mic/Line, 8 channel Line, 2 channel Line, 8 channel DA, Madi, AES, Dante 128 and SDI.
Built in SPQ processing: Integrated SPQ processing allows users to calibrate their monitor system and correct for acoustic anomalies in the room. SPQ provides up to 16 filters per monitor channel up to 128 channels with adjustable delay and filters.
Expanded summing mixer: With a summing mixer of 512 x 64, MTRX II covers all monitoring needs from simple stereo mixes and cues to theatrical Atmos configurations.
The new MTRX Thunderbolt 3 Module features include:
Streamlined native Pro Tools solution: The Thunderbolt 3 Option Card brings simple and efficient Native connectivity to both Mac and PC machines. Users can connect their workstation to their existing MTRX Studio or MTRX II to leverage DADMan with Pro Tools or any other application.
Multi DAW/Application Workflows: For systems that already leverage a DigiLink connection, Thunderbolt 3 opens up new workflows. Users can route from Pro Tools | HDX to another DAW over the Thunderbolt connection, compose in one DAW and record to Pro Tools.
Increased channel count: Users can get up to 256 channels with MTRX II and up to 64 channels with MTRX Studio.
Low latency power: While HDX continues to provide the lowest latency possible, Thunderbolt 3 provides the fastest native connection for audio workstations or mobile workflows.
Check out the Avid website for details.
---