The new Jam X will have guitarists experiencing their instruments in a whole new way, so says Apogee. It features a built-in compressor with three levels of gain and more tone-shaping than you should really expect from an interface of this size.
The original Jam was released as long ago as 2010, but so successful that the company has released several updates and additions to the Jam line, the collection of which should surely be called 'jar'. Jam X is the latest and still manages to include something not done by its predecessors or, Apogee claims, anyone else.
Jam X squeezes an analogue compressor into its diminutive form which, after guitarists plug it into their iOS device or computer, will enable them to shape their tone. However, it also adds three presets – Smooth Leveler, Purple Squeeze, and Vintage Blue Stomp – to dictate how much you drive the input gain, from subtle to extreme.
This gives you extra shaping power over your sound before it's even reached any virtual amp sims you might be sending it too. Apogee says that with this at the front of the signal chain, guitarists will experience added sustain and dynamics, or can use Jam X to fatten up weaker source sounds.
It is a layer of extra flexibility that should make Jam X stand out from quite a crowded sector of the market – the iOS and computer interface market is certainly a bustling place to be. And other features like Blend mode, which cuts out latency when recording, plus sample rates up to 96kHz and "ample headroom" – not to mention those cool, gold looks – should keep Jam line going strong.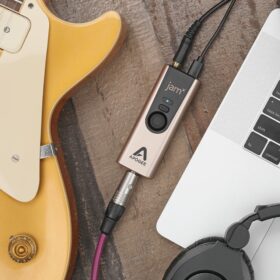 Jam X works with PCs, Macs and iOS devices with type C ports. And you don't have to use it just to record guitars. Plug in your bass, keyboard, synth, or any acoustic instrument with a pickup.
The Jam X retails for £/$199 and you can get more information from the Apogee website.
---