Klevgrand has introduced a new audio plugin designed to go beyond ordinary compression. Klevgrand Richter is a 'tectonic', super-heavy compressor plugin that the company thinks is off the scale.
Richter is another Klevgrand's compressor plugin. However, Klevgrand believes that, with Richter, it's managed to do something a bit different. This "tectonic" device is designed to achieve earth-shaking levels of compression without creating too many audio artefacts, and all via a very simple interface.
There are just two main controls: Transients and Amount. The first controls "how the internal envelope follower will react to transients vs continuous/lasting sounds," while the second dictates how much compression is applied.
Meaning that you use these two knobs in tandem to get the style and amount of compression that you want, whether that be on vocals, drums or anything else. A three-step boost switch can be engaged to push things even harder, and you can also adjust the makeup gain, dry/wet mix, input trim and a simple EQ. If you are looking for starting points, check out the factory presets.
The effect that Richter is having is visualised in the waveform view, but the idea seems to be that you will spend less time analysing and examining and more time tweaking and listening.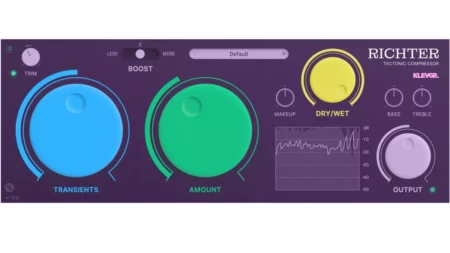 Features:
Superheavy compression with minimal unwanted artifacts.
Intuitive Transients and Amount dials.
Real time graph visualization.
Tonal control.
Three-step boost switch.
Input trim control.
Makeup gain, Dry/Wet mix and Output control.
Richter runs on PC and Mac in VST/AU/AAX formats and is currently available for the introductory price of $29.99 until 15 June, after which the price goes up to $69.99.
There is also an iOS version (AUv3 and iPad standalone) that is currently available for the introductory price of $4.99. This will rise to $12.99 after 15 June.