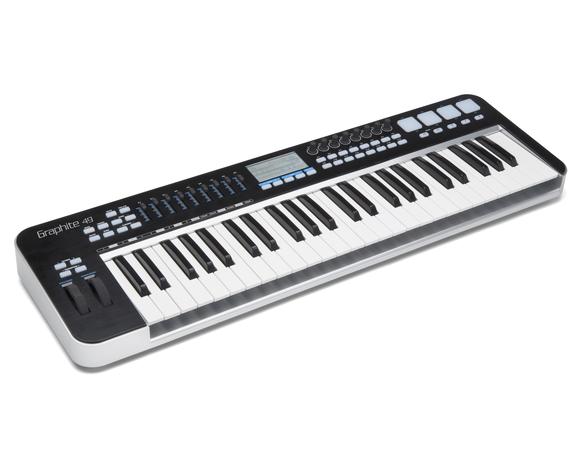 Winter NAMM 2012 Show in Anaheim, California is the most important event in the music-making industry calendar. The NAMM Show brings together all hardware and software manufacturers from around the world who have helped to change the way people make music. With the latest musical products and technologies, and a host of celebrities for an industry-only convention.
At the 2012 NAMM Show, Samson introduced the new Samson Graphite 49. This USB MIDI keyboard controller is loaded with features every studio needs. The Samson Graphite 49 features 49 semi-weighted velocity-sensitive keys, with aftertouch, large LCD display, Pitch and Modulation wheels, Transpose and Octave buttons, Midi Out and USB connections, Programmable faders (9), encoders (8) and buttons (16), 4 velocity-sensitive trigger pads – 2 banks; for drum sounds and samples.
The Graphite 49 will quickly become the hub of your studio, from controlling virtual instruments to handling transport commands for your DAW. The dedicated transpose and octave buttons enable you to change the key of any given instrument, as well as expand the keyboard to a full 4-octave range, all at your fingertips. In addition, you get a large selection of programmable surfaces that make DAW and plug-in control easy, thus enable keyboard players and studio professionals express their most dynamic musical ideas. Use the Graphite 49 with a Mac, a PC, or powered directly by the iPad when you are making music on-the-go. If you want a powerful keyboard controller which is also your control headquarters but, with additional mobility, you need the Graphite 49! The keyboard controller gives you all the performance and production control you need to get the most out of your music software and brings out the best in performance and production capability.
The sleek, ultra portable, and cool looking Graphite 49 is a very versatile and easy to use keyboard controller! Samson Graphite 49 would be available in June 2012 at an incredibly affordable package. Technology is music to my ears and I just love innovations. Though sometimes it takes a little longer than expected but it is worth the wait.