Electronic Keyboards
Digital Pianos
Portable Keyboard
Synthesizers & Workstations
Free shipping on most items over $9.99!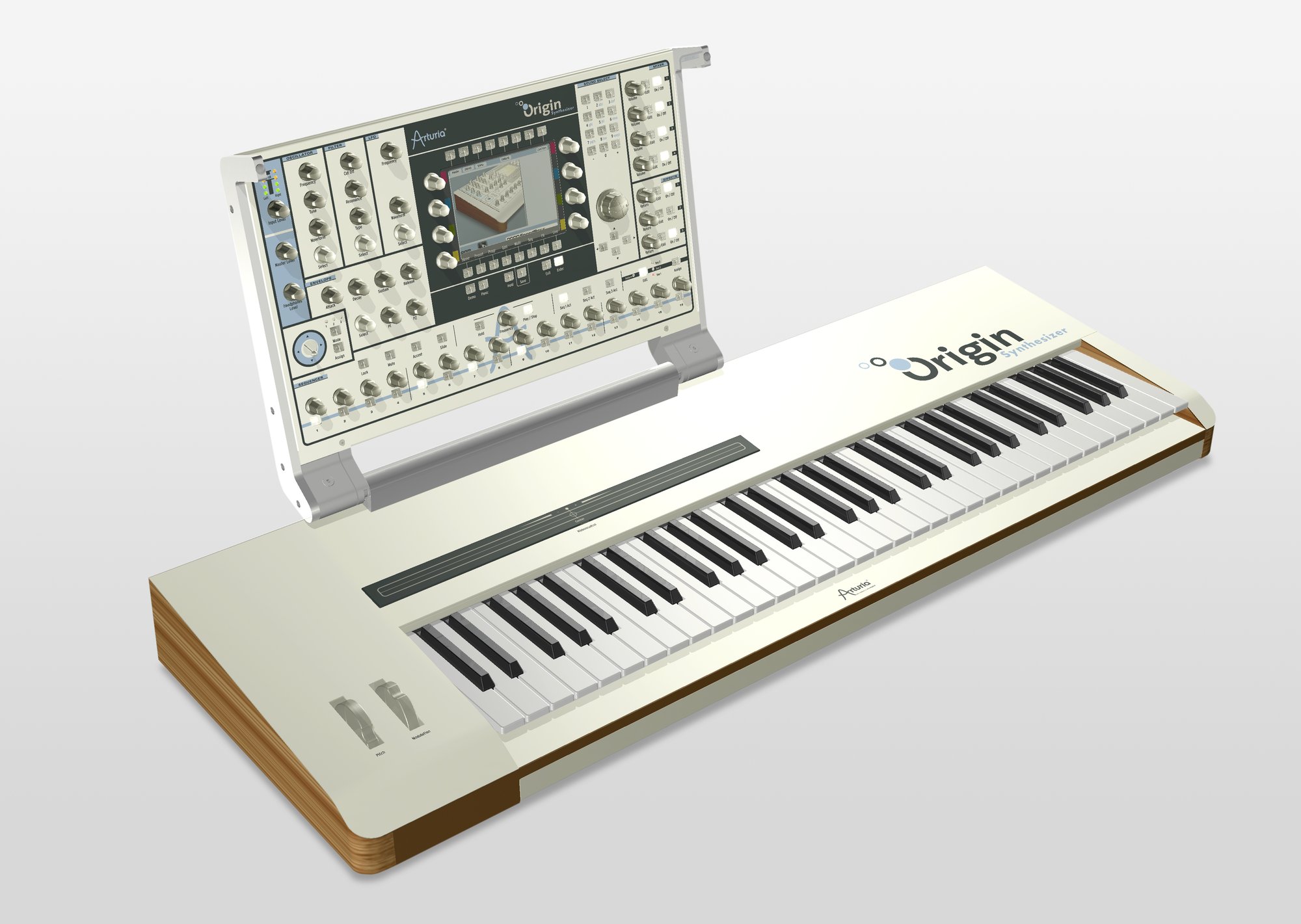 Arturia, the French manufacturer has introduced an even more self-contained system: the Origin Keyboard. Arturia is known for its faithful software emulations of classic analog synthesizers, with its first hardware synth, the Origin – the tabletop model. Now, the new Arturia Origin Synthesizer Keyboard features 61 keys semi-weighted action keyboard, with velocity response and channel aftertouch, New duophonic aftertouch, more than 600 presets, modulation and pitch-bend wheels, joystick, assignable ribbon controller, maximum 32 voices Polyphony, LCD display.
The 61 keys semi-weighted keyboard's new duophonic aftertouch is a breakthrough. With duophonic aftertouch, keyboard pressure affects only the lowest, highest, or last note played, depending on the setting. The joystick enables user to graphically adjust the velocity curve's five breakpoints and the aftertouch curve's three breakpoints. The 40cm ribbon controller is fully programmable and can modulate any destination available or use it to trigger notes. It can also change pitch – any amount from one to 48 semitones up and down from its zero point, with stepped quantization or a smooth glissando. Mimic the tabletop model, the Origin Keyboard accurately models modules from the most famous synthesizers – the Moog Modular, Minimoog, ARP 2600, Yamaha CS-80, Roland Jupiter-8, Sequential Prophet-5 and Prophet VS, and also enables user combines virtual circuits from different instruments together. Playing multichannel presets from the keyboard or a DAW is straightforward. User can assign each program within a multi to a zone and assign each zone to a MIDI channel. In addition, user can assign hardware controllers such as the pitch-bend wheel and ribbon to affect only the desire zones. User can specify a note range for each zone by defining its low and high notes, by either playing them on the keyboard or turning the value knob.
The Arturia Origin keyboard is a well designed instrument for keyboardists and musicians, while provides tools for music creation. The standalone portable keyboard weight 23 kg. I am impress with the versatility of the ribbon controller. In my opinion,  the integration of the ribbon control is indeed a blast. Though the synthesizer keyboard is not cheap but, for a well designed keyboard like the Origin Keyboard, it is at a fair price.
Digital Pianos
Electronic Keyboards
Organs
Pianos
Player Pianos
World Instruments
Electronic Music
Audio Samplers
Audio Sequencers
Drum Machines
MIDI Interfaces
Production Stations
Sound Modules
Tabletop Synthesizers
Das Keyboard High-Performance Mechanical Keyboards
The World's First Cloud Connected Keyboard.