Electronic Keyboards
Digital Pianos
Portable Keyboard
Synthesizers & Workstations
Free shipping on most items over $9.99!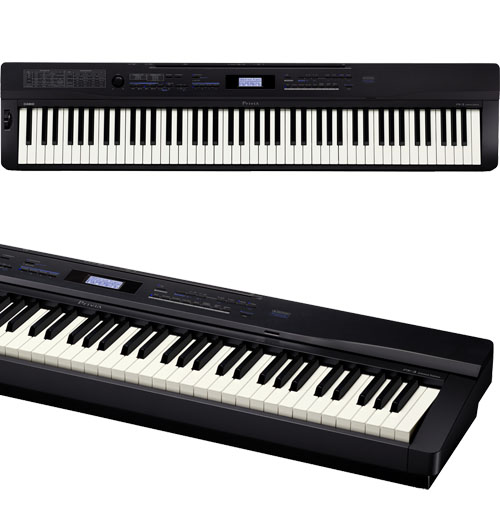 The new Casio Privia PX-3 Stage Digital Piano features a new Ivory Touch, 3-sensor 88 note scaled hammer action keyboard, MIDI controller capabilities, maximum 128-note Polyphony, Effects; Reverb – 4 types, Chorus – 4 types, Brilliance, DSP – 2 channels, 64 types, editable and 4-band equalizer, 250 tones including, grand piano, electric pianos, clavitones / vibraphone, organ tones, strings/ensemble, guitar/bass, 20 other tones, 128 GM and 10 drum sets.
The Casio Privia PX-3's all new Ivory feel keys is only available in the top of the line Casio Celviano models prior to this. The rough matte coating which gently grip your fingers plus, 3-sensor 88-note scaled hammer action keyboard are what makes the Privia PX-3 feel authentic. Four dynamic levels of stereo piano samples are integrated with Casio's proprietary Linear Morphing System, for a grand piano sound with seamless transitions and a superior dynamic range. The Privia PX-3 does an effective job creating tonal variation using the four stereo AIFF samples per note. The new high quality instrument sounds incorporate in PX-3 are pro musicians need and want like Fender Rhodes, Wurlitzer's, Hammond B3 organ tones and many more. The main grand piano patch, electric pianos and synth patches are very playable especially, when tweaked with DSP effects and filters. The Casio Privia PX-3 has basic layer and split features that can be combined to create four unique zones, two layers on each side. Each zone can load a patch. There is a total of 250 patch. These can be played directly from the piano or used with MIDI files from an external sequencer or a card in the PX-3's multifunction SD card slot.
The Casio Privia PX-3 is packed with user-friendly design elements The Privia PX-3 is designed to primarily be the best lightweight pro piano at a superb low price. The stereo grand piano sounds, superior key action, and smooth response action are fantastic and if that was all this new product had to offer, it would be enough. But, this portable keyboard offers much more in a very lightweight case. The 88-note scaled hammer action keyboard weight merely 23.8 lbs.


Digital Pianos
Electronic Keyboards
Organs
Pianos
Player Pianos
World Instruments
Electronic Music
Audio Samplers
Audio Sequencers
Drum Machines
MIDI Interfaces
Production Stations
Sound Modules
Tabletop Synthesizers
Das Keyboard High-Performance Mechanical Keyboards
The World's First Cloud Connected Keyboard.
PX3BK 88 Key Digital Performance Piano