Electronic Keyboards
Digital Pianos
Portable Keyboard
Synthesizers & Workstations
Free shipping on most items over $9.99!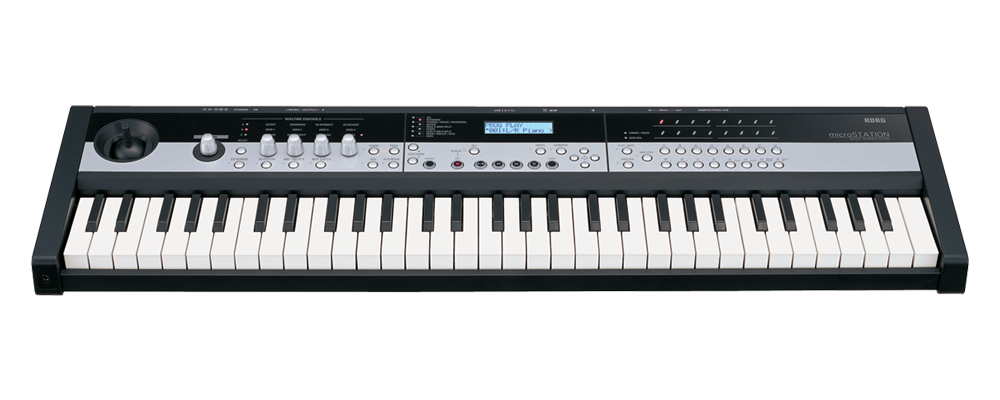 The new Korg MicroStation Workstation is a Micro Synthesizer with Sequencer. The MicroStation features 61 mini-keys Natural Touch keyboard with velocity sensing, dual polyphonic arpeggiators, max 120-voices Polyphony, extraordinary Effects; 134 types – Insert, Master and Total Effects, new Enhanced Definition Synthesis-integrated (EDS) engine, 16 MIDI Tracks and 1 Master Track, 480 programs; outstanding sounds like keyboard, synth, drums, basses,leads and many more, 25 Drum kits, 256 Combinations.
The MicroStation EDS-i engine is an integration of Korg M3 XPanded and M50's EDS system. The Compact and Portable MicroStation enables novice sequencer users to transform musical ideas into polished productions. The built-in sequencer new features such as easily accessible Loop Recording and Visual Grid Sequencing enable novice users to jump-start any type of music production. Finding the right sound is a breeze. The 383 audition riffs play a repeating phrase so the selected sound can be heard in context. Every sound can be edited, tweaked and re-written, with ample of room for saving custom Programs, Combinations and Drum kits, enabling novice users to complete their musical ideas. The MicroStation knobs and controllers are also located for easy use.
The Compact, Lightweight and Portable keyboard makes it easy for travelling and suitable for any kind of environment. The Stunning sound of the Enhanced Definition Synthesis-integrated engine, extraordinary effects, new and easy-to-use sequencing tools, make the MicroStation perfect for novice musicians and professional musicians alike. The instrument weight merely 5.73 lbs. In my opinion, the Korg MicroStation will be here to stay.

Digital Pianos
Electronic Keyboards
Organs
Pianos
Player Pianos
World Instruments
Electronic Music
Audio Samplers
Audio Sequencers
Drum Machines
MIDI Interfaces
Production Stations
Sound Modules
Tabletop Synthesizers
Das Keyboard High-Performance Mechanical Keyboards
The World's First Cloud Connected Keyboard.