Electronic Keyboards
Digital Pianos
Portable Keyboard
Synthesizers & Workstations
Free shipping on most items over $9.99!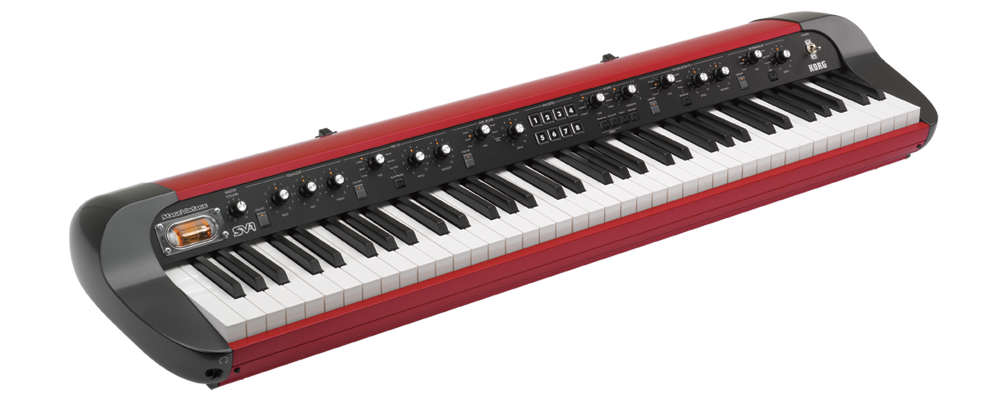 The NEW portable Korg SV-1 Stage Vintage Piano comes in both 73-key and 88-key, Real Weighted Hammer Action 3 (RH3) keyboard. As the name says it all, this new vintage keyboard will cure those who are addicted to vintage keys, while at the same time fulfilled the wishes of those who yearn for both classic and timeless keyboards, all in one instrument.
Korg is prudent with details, the on-board effects provide spot-on recreations of studio techniques, amp chassis, stomp-box pedals, and speaker cabinets transformed these sounds into coveted classics. Additionally, the SV-1 incorporates Korg's Real eXperience (RX) Technology whereby each sound is a detailed and authentic recreation, accurately capturing the full range of expression and dynamics of the original. The 36 sounds in the SV-1 span electric pianos, acoustic pianos, clavs, organs, strings, and even a couple of synths for good measure. Besides the robust sound system you can hear the real mechanics of all the instruments behind the way the sound comes out. The acoustic piano sound is very intuitive, and that is a very hard thing to model on many keyboards.
If you have played vintage keys before you will notice that when you play Korg SV-1, it is the keys and the incredible sound which make you feel like this is something that you had played before. The touch of this lends itself to the classic sounds. The RH3 Real Weighted Hammer Action is the finest keyboard, with a solid, responsive feel. The authentic hammer weighting gets progressively lighter as you go up the keyboard, just like playing an authentic piano. The groovy, retro-styled Korg SV-1 73 Portable keyboard weight 38.5 lbs whereas the SV-1 88 weight 45.3 lbs. Check out its cool features and you will understand what I mean.
Digital Pianos
Electronic Keyboards
Organs
Pianos
Player Pianos
World Instruments
Electronic Music
Audio Samplers
Audio Sequencers
Drum Machines
MIDI Interfaces
Production Stations
Sound Modules
Tabletop Synthesizers
Das Keyboard High-Performance Mechanical Keyboards
The World's First Cloud Connected Keyboard.