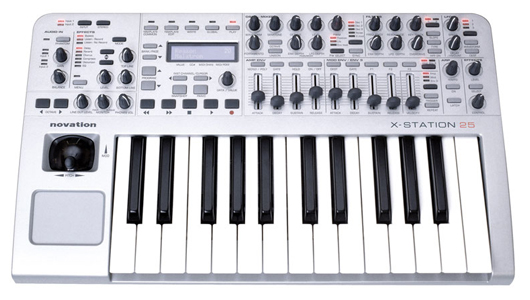 Electronic Keyboards
Digital Pianos
Portable Keyboard
Synthesizers & Workstations
Free shipping on most items over $9.99!
The Novation X-Station 25 is a 3 Oscillator Virtual Analog Synthesizer built on the renowned Novation KS series. The X-Station 25 features 8 voice Polyphony, MIDI control and 24-bit Audio Interface with 2 XLR/Jack inputs/out. In a nut shell, the X-Station is a complete solution for music producers and live performers.
Additionally, the X-Station features 25-, 49- and 61-keys, all with semi-weighted keys and after-touch. The X-Station 25 features 25-keys and weight approximately 2.5 kg and like all X-Station series, can also operates on 6 x standard 'C' size 1.5 Volt dry cells or rechargeable cells, besides USB or power supply. The X-Station 25 audio interface with two robust and high quality converters, two NeutrikTM combined XLR and jack sockets and many more, Effects; Chorus, Delay, Reverb, Distortion and EQ. The onboard DSP effects processor provides multi-effects for recording or monitoring applications. As each audio channel has its own effects chain therefore, you can record audio with effects on one channel and use it as a synthesizer simultaneously on the other channel.
The uniquely design Polyphonic Synthesizer is Novation's non compromise approach to produce a sound wave masterpiece and hence, LIQUID ASM (Analogue Sound Modeling)  is used.
Digital Pianos
Electronic Keyboards
Organs
Pianos
Player Pianos
World Instruments
Electronic Music
Audio Samplers
Audio Sequencers
Drum Machines
MIDI Interfaces
Production Stations
Sound Modules
Tabletop Synthesizers
Das Keyboard High-Performance Mechanical Keyboards
The World's First Cloud Connected Keyboard.