Electronic Keyboards
Digital Pianos
Portable Keyboard
Synthesizers & Workstations
Free shipping on most items over $9.99!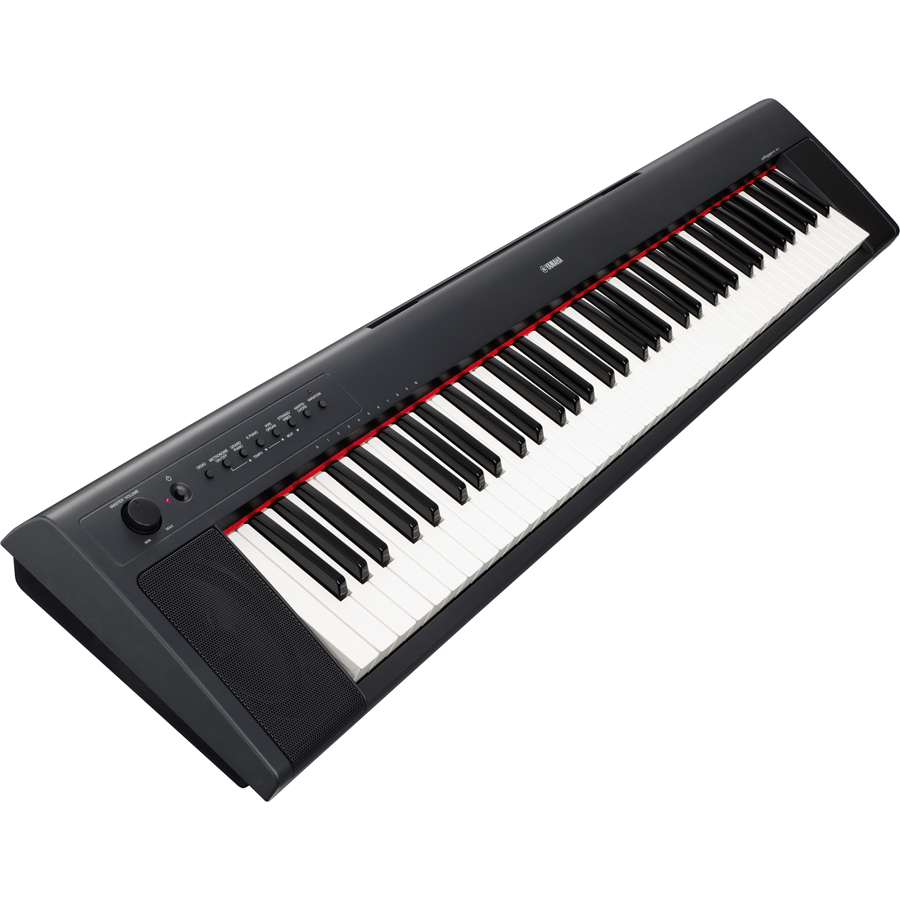 Yamaha's new Piaggero NP series NP31 Keyboard features 76 full-sized keys with Graded Soft Touch, Advanced Wave Memory (AWM) Stereo Sampling technology, built-in Stereo Speaker System, Max. 32-note Polyphony, Effects; Reverb – 4 types, 10 Preset Voices; electric piano, organ, harpsichord, strings and vibraphone and Preset Piano songs; 10 voice and 10 piano demo – each with dedicated Voice select buttons, battery power or AC adaptor, eco-friendly mode.
The Yamaha Piaggero NP31 is compact, stylish and ultra-portable. Weighing just 12 pounds and operating on just 6 AA batteries, makes it an ideal choice for gigging musicians. The NP31 gives you the look and feel of a qual­ity stage piano with­out the price tag. It has 76 Graded Soft-Touch keys that, although not hav­ing a true piano feel, offers a more real­is­tic feel and tone than many other mod­els in the price range, thanks to Yamaha's Advanced Wave Memory Stereo Sampling technology. With Yamaha's Dynamic Voice Allocation, 32-notes is all a pianist needs to play and sustain notes naturally. In addition, with built-in ultra-natural piano voices, the NP31 can be use as a MIDI controller for home studio.
The NP31 has a very tidy pair of six-watt ampli­fiers for the stereo speak­ers means you can plug in your portable instrument or load it with bat­ter­ies and start play­ing straight away. The NP31 is also user-friendly, at the front panel a recessed power but­ton and rotary con­trol for the vol­ume give you a smoother and more del­i­cate touch to how loud you want to play, and dedicated buttons for each voice. Fur­ther­more, Yamaha have included an eco-friendly mode fea­ture that turns the key­board off after 30 min­utes of inac­tiv­ity. This new and robust 76-key digital piano pleases the piano purists – demanding portability, interactive features and superior piano Voice quality, for performing or practicing piano anywhere…

Yamaha NP32 76-Key Lightweight Portable Keyboard, Black

goat milk
creatives

Digital Pianos
Electronic Keyboards
Organs
Pianos
Player Pianos
World Instruments
Electronic Music
Audio Samplers
Audio Sequencers
Drum Machines
MIDI Interfaces
Production Stations
Sound Modules
Tabletop Synthesizers
FREE Shipping for Das Keyboard
---