Digital Pianos
Electronic Keyboards
Organs
Pianos
Player Pianos
World Instruments
Electronic Music
Audio Samplers
Audio Sequencers
Drum Machines
MIDI Interfaces
Production Stations
Sound Modules
Tabletop Synthesizers
FREE Shipping for Das Keyboard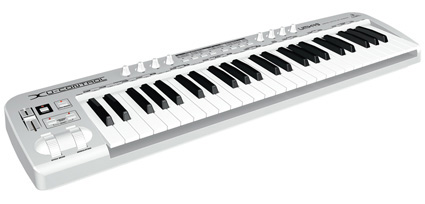 The Behringer U-Control UMX49 is akin to a mobile studio. The UMX49 sports everything needed in a conventional studio; USB/MIDI controller keyboard with 49 full-size keys (velocity sensitive), Ableton Live Lite 4 BEHRINGER Edition software, on-board 50 virtual instruments and 10 programmable MIDI controllers.
The Ableton Live Lite 4 BEHRINGER Edition software enable you to compose, record, revolutionize and maximize your creative musical ideas. The 50 virtual instruments software enable you play any instruments sound like synthesizers,  grand piano and many more by just a simple press of a button, and you can connect the UMX49 to your audio devices – mixers, amplifiers, MP3 etc., You can also connect UMX49 to your Computer for real time recording and playback.
This Ultimate "Studio in the Box" is "the next generation of USB/MIDI Controller". Take a close view at this very handsome piece of technology- at an Affordable and Unbelievable price!
Digital Pianos
Electronic Keyboards
Organs
Pianos
Player Pianos
World Instruments
Electronic Music
Audio Samplers
Audio Sequencers
Drum Machines
MIDI Interfaces
Production Stations
Sound Modules
Tabletop Synthesizers
FREE Shipping for Das Keyboard
---