Anton Anru shared the video demo for Probability, a collection of 20 generative patches for the Moog Mother-32 synthesizer.
Here's what sound designer, Anru has said about it:
Controlled chaos and randomness, probability, non-repetitiveness, tempo break, pattern uniqueness, short and long sounds alternation, unexpected changes, silence and density, harmonic and fx-like tones, freaky splashes during a sequence – all these things are included in the soundset.
Generative timbre may be a good addition to (or a lead part of) ambient or techno tracks, jams and performances. You may also record fragments into your DAW or sampler, slice it to one-shots or make loops – you'll get a unique material for further processing.
The patches are documented as illustrations in a pdf file, as shown below: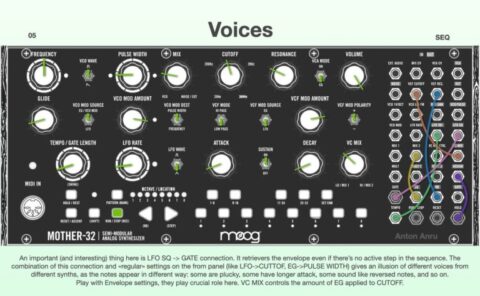 You need up to 10 patch cords to recreate the patches.
"If you make all the settings consciously and try the things mentioned in the notes," notes Anru, "you will learn lots of things about the synth and discover its true depth.
"Probability" is available now for $9.95.