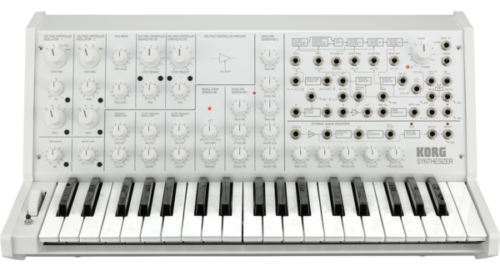 MS-20 FS Full-size MS-20 Synthesizer (White)
The Full-Sized Korg MS-20 Is Back!
Originally released in the late '70s, the original MS-20 is a classic semi-modular monosynth, prized for its distinctive, aggressive-sounding filters and external audio processing capabilities. The MS-20 was originally revived by Korg in 2013, in the form of the three quarter-sized MS-20 mini, and while two full-sized versions did follow – in full and desktop module forms – both were released as DIY kits produced in limited numbers.
Korg has announced another production run of the full-sized MS-20, and this time in pre-built, rather than kit format. And what is more there are four limited-edition color variations to choose from. These include the standard black design along with new green, white and blue versions, each of which Korg says will be produced in limited numbers.
The full-sized 37-note keyboard's design remains the same as the original including two filter types, Except for the addition of MIDI and USB MIDI control – just pitch and note on/off. The two filter allow users to switch between earlier and later designs of the original filter.
The Korg MS-20 FS  Monophonic Synthesizer  is expected to be available in April 2021.
For more details, visit Korg website.