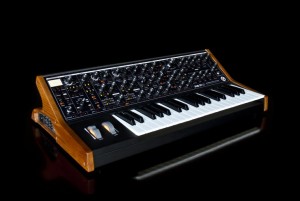 Introducing the Moog Sub 37 Tribute Edition. The new Moog Sub 37 Analog Synthesizer is based on the Moog Sub Phatty
with a larger keyboard, increased controllability and most importantly is Paraphonic. Moog
knows what you need to perform. The keyboard has being expanded out to 37 keys which instantly gave the engineers more available panel space for additional functionality.
The Sub 37 has 2 VCO's, Noise Source, External input and Sub Oscillator. In addition the Sub 37 has a Feedback Control which is active when nothing is plugged into the external input, this can be in addition or in series to the overdrive that gives huge power and distortion capabilities. As the multi-drive is wrapped around the filter the Sub 37 can achieve unrivalled rich tones that can reach extremes with the tone turning DC, crazy!
On the Sub 37 you have independent control of the pitch of the 2 oscillators, thus making it paraphonic. The Noise source is voiced as the Sub Phatty with full controllability through the use of the multiple filter poles giving amazing body and richness. There are 16 quick preset buttons on the front panel and bank button giving instant access to 256 presets. The envelopes on the Sub 37 have moved to another level over previous models. In addition to the 4 envelope knobs there are a row of 5 buttons which are multi-featured, these buttons vary in function from multi-triggering, clock syncable LFO, looping and latch-on. The envelopes are loopable which allows the user to run pulses independently to the arpegiator. The Moog Sub 37 has full independent control of the oscillators with, for example, the possibility to set keyboard tracking for one and not the other. The pitch modulation can also be sent to one or both of the oscillators independently, both these functions bring out the power and richness of a true paraphonic synthesiser.
The Moog
Sub 37 simply looks wonderful, and would be available in mid-year.