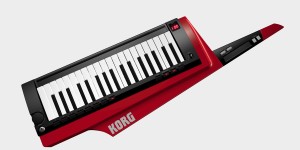 Korg debuted the RK-100S synth for the 30th anniversary of the original RK-100. Back in 1984 haircuts were questionable and music was diverse, keyboard players sat behind their hug rigs and could only dream of joining guitarists and bassists at the front of the stage to strut their stuff but, the Korg RK-100 remote keyboard broke the chains of keyboardists, setting them free to perform as they liked.
Housed in a stylish, solid wood body, the battery-powered RK-100S offers a number of additional updates from the original model. Equipped with a full palette of keyboard sounds from the built-in microKORG XL+ engine, it enables users to perform in a wide variety of music genres wherever inspiration may strike. It also functions as a USB/MIDI controller, as well as a vocoder.
There are 200 programs available in the onboard MMT sound generation system, including a broad range of oscillator algorithms such as the characteristic sawtooth and square waves found in analog synthesizers, plus formant waveforms, noise, and classic PCM/DWGS waveforms.
In addition to the 37-note slim keyboard (as featured on the Korg MS-20 Mini
), a short ribbon controller on the neck and a long ribbon controller in front of the key bed are included for controlling parameters such as pitch and filter. The long ribbon runs the entire length of the key bed and can also be used to play scales over three octaves. Also included is a built-in Arpeggiator, with six arpeggios available. Notes in the Arpeggiator can be individually switched on/off, for even more rhythmic variation.
The RK-100S comes equipped with a vocoder function that lets players use their voice, via the optional headset mic, to process the sound of the oscillator.
The Korg RK-100S synth runs on six AA batteries or the optional AD adaptor and is available in a choice of three colors: red, white and black.  And would be available June 2014,