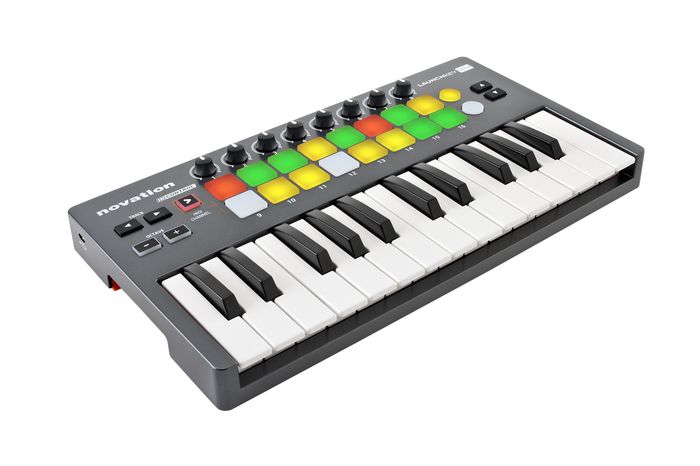 The Novation LaunchKey Mini is a 25 key mini-keyboard controller for iPad, Mac and PC with 16 x Tricolor Performance Pads and 8 x Ptogrammable Knobs, Dedicated Navigation and Control Buttons in a compact case. LaunchKey Mini is bundled with Ableton Live Lite, V-Station, Launchpad / Launchkey apps and the Bass Station soft synth.
The Novation Launchkey Mini packs more functionality than just about any other keyboard you can get your hands on. A set of 25 synth-action keys gives you two octaves to play with at a time, and you can use the 16 tricolor pads to trigger loops, launch samples, tap out drums, or even play instruments. Navigation controls provide advanced integration with Ableton Live, but you can Use your Launchkey Mini with just about any DAW on your Mac or PC. What is more, special iPad apps make it easy to create music on the go with your Novation Launchkey Mini!
The Launchkey Mini's track-left/right buttons can be used to alternate between the apps, and when Launchkey Mini and Launchpad Mini
are running, they are kept perfectly in sync, allowing the user to trigger loops and play the arpeggiator at once. Furthermore, its functionality goes a little deeper with the introduction of Novation's "InControl" technology, which seems to be a greatly slimmed-down version of the "Automap" ability from the company's larger SL MkII series of controllers. "InControl" allows the user to alternate between sending standard MIDI messages and a customized template i.e, the pads can be used to trigger various percussion sounds in the MIDI mode, and then once "InControl" is turned on, they can be assigned to enabling or disabling selected effects, used as solo or mute buttons, or perform any other useful functions.
Take your music production on the road with the Novation Launchkey Mini
keyboard controller!