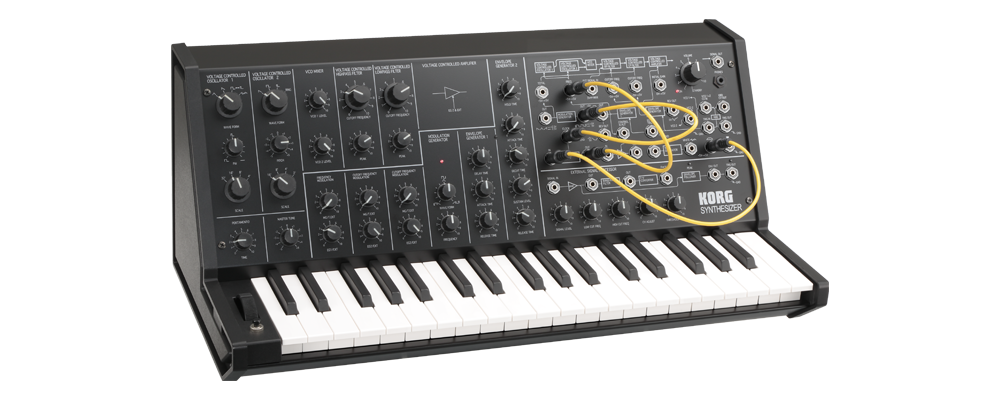 The Korg MS-20 Mini resemble its predecessor Korg MS-20, originally realeased in 1978. The MS-20 is a fully analogue, dual oscillator monophonic synthesizer with two envelope generators, high and low pass filters, a modulation generator with frequency, high pass filter and low pass filter modulation. Its three octave keyboard came housed in a distinctive upright case featuring a versatile patch bay for extended modulation, CV implementation and external signal processing making it possible to affect any audio source using the famous filters or even allow a guitar to trigger the synth.
But for many, to what extend the MS-20 Mini resemble its predecessor. First and foremost, the components in the original synth are now the best part of 35 years old, something that will affect the overall character of the sound. Apparently, the new synth is a little more extreme sounding and that the filter peak plays with the sound at a slightly different point than the original. If you compare the wave forms of both machines under an oscilloscope then you will find a slight difference but to all intents and purposes Korg have come up with as close a replica, in terms of sound, as anyone is likely to manage.
There are however some noticeable differences. The new synth is a whole 14% smaller in size than its predecessor, and that includes the keyboard. The keys are halfway between the mini keys found on the microKorg series and full size keys, specially designed for MS-20 Mini. There is now MIDI in as well as USB connectivity, and instead of 1/4″ TRS jack inputs. The MS-20 mini uses standard mini jack sized cables (3.5mm) for the patch bay, headphone out and main outputs, which is in line with the overall scaled down design. The endless possibilities offered by the addition of a patch bay will help keep both sound design novices and veterans occupied for years without getting bored. The two oscillators differ slightly as VCO1 scales from 32′ to 4′ whilst VCO2 is slightly higher at between 16′ and 2′. VCO1 gives you the choice of triangle, sawtooth, pulse width square and white noise with adjustable pulse width control. VCO2 gives you sawtooth, square, pulse and ring modulator with an independent pitch tuning control.
The Korg MS-20 Mini
is relatively simple to create a gritty sound that does not want to be softened. The MS-20 mini has the ability to keep up with every edgy idea that you can imagine and is a lot of fun to use in the process. A faithful resurrection of the MS-20
, at a good price. Everyone should possess one!