Electronic Keyboards
Digital Pianos
Portable Keyboard
Synthesizers & Workstations
Free shipping on most items over $9.99!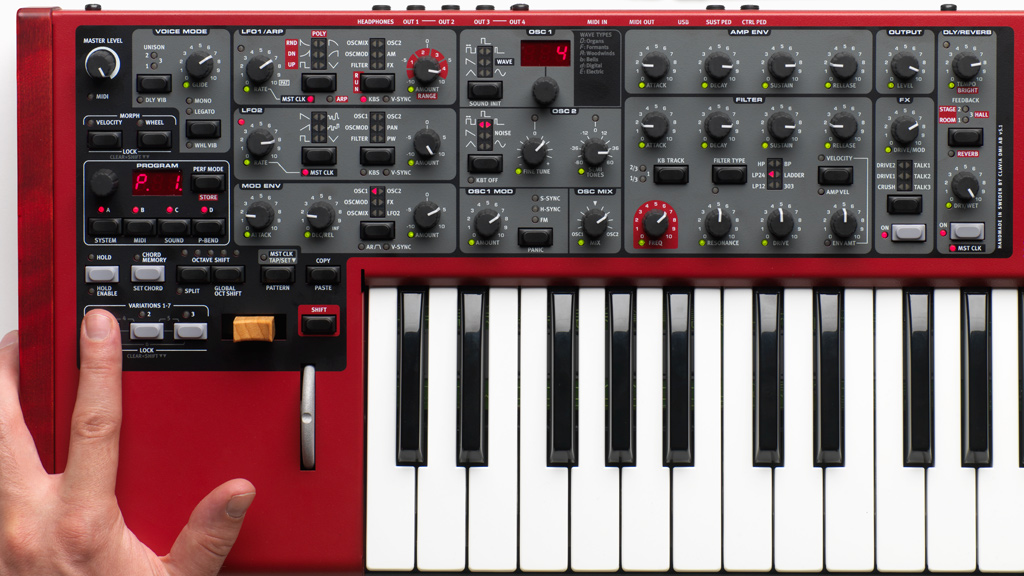 The all new Nord Lead 4 Performance Synthesizer boasts 4 part multi-timbrality and an all new dual oscillator virtual analogue sound engine with 2x oversampling, new filter types and built in effects processor. And you get USB MIDI and 49 velocity-sensitive keys.
In addition to the Nord Classic Analogue Waveforms the new synth incorporates Wavetable mode with unique Formant Wavetables. Frequency Modulation and Hard/Soft sync options are available to allow you to "trash" your sound to new levels, the True Voice Unison mode can stack up to 4 voices to create truly awesome fat lead synth sounds and deep pad sounds.
The filter section on the Lead 4 includes Low Pass, High Pass, Band Pass and now spectacular simulations of two transistor and diode ladder filters offering that dirty character of their ancestors.
Nord have incorporated a new "Variation" button that let you override almost any parameter. The Lead 4 has 7 assignable Variations per program giving the user the ability to warp and improvise sounds in real time, this can be done both sonically and rhythmically. Nord have also popped in Master Clock Syncronization which means this can be done in perfect sync to other layers or to an external MIDI clock.
The 4 slots have their own dedicated effects sections including delays, reverb, tube amp simulated overdrive, a talk effect modeled after a vocal tract and a sample rate reducing "crush" effect. Another new tool to the Lead series of synthesizers that empower the user to create unique sounds and work away from the norm.
Quite simply if you thought the Nord Lead 2 belonged in your synthesizer arsenal then make space for the Nord Lead 4. Like it's predecessor the Nord Lead 2 the Nord Lead 4
is available in both four octave keyboard and rack/tabletop versions, simply known as the Nord Lead 4R
.

Digital Pianos
Electronic Keyboards
Organs
Pianos
Player Pianos
World Instruments
Electronic Music
Audio Samplers
Audio Sequencers
Drum Machines
MIDI Interfaces
Production Stations
Sound Modules
Tabletop Synthesizers
Das Keyboard High-Performance Mechanical Keyboards
The World's First Cloud Connected Keyboard.
goat milk
creatives