Electronic Keyboards
Digital Pianos
Portable Keyboard
Synthesizers & Workstations
Free shipping on most items over $9.99!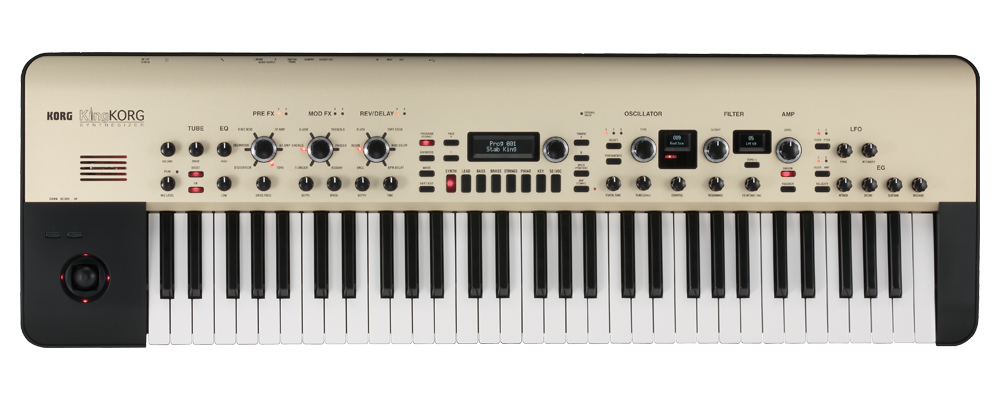 The new Korg KingKORG is a 61-key analog modeling synthesizer with Tube Preamp, Vintage Effects, Vocoder, Arpeggiator, CV Control, Oscillators, Filters, and Modulation Controls.
The KingKORG unique feature is the new XMT (eXpanded Modelling Technology) modelling sound engine that simplifies the overall operation of the synth whilst still being able to produce a wide variety of incredible sounding tones. The KingKORG provides pre-set algorithms that contain combinations of familiar oscillator sounds such as sawtooth, square and noise as well as numerous PCM/DWGS algorithms to sculpt unique and personal sounds.
The KingKORG also features a vocoder section with an on-board microphone input, to get those Daft Punk robot voice sounds as well as the creative freedom to use a voice as the basis for new tonal creations. The KingKORG also has Formant Shift to modify the character as well as Formant Hold which freezes a vowel sound to be played back across the keys.
Additionally, Korg has also included powerful and diverse modelling filters based on classic synthesizers from the '70s and '80s that allow unique sound shaping, as well as a faithful recreation of Korg's own MS-20 analogue synthesizer. Being analogue modelled, the filters closely mimic behaviour such as self-oscillation and distortion for aggressive leads and basses.
Perhaps, one of the more striking features is the intuitive new panel layout that makes the KingKORG easy to use, with a dedicated display for the oscillator clearly showing the current algorithm. There is also a function for selecting sounds by type such as ANALOG or PCM, and plenty of knobs spaciously laid out that give immediate hands on control of the most important parameters, making production and performance a more tactile experience.
Take to the stage with the performance-designed Korg KingKORG analog modeling synth. Created for live use, this synth delivers easy-to-use controls, amazing tones, and is light weight. The Korg KingKORG
synth has all the tools you need to gig like a pro.

Digital Pianos
Electronic Keyboards
Organs
Pianos
Player Pianos
World Instruments
Electronic Music
Audio Samplers
Audio Sequencers
Drum Machines
MIDI Interfaces
Production Stations
Sound Modules
Tabletop Synthesizers
Das Keyboard High-Performance Mechanical Keyboards
The World's First Cloud Connected Keyboard.