Electronic Keyboards
Digital Pianos
Portable Keyboard
Synthesizers & Workstations
Free shipping on most items over $9.99!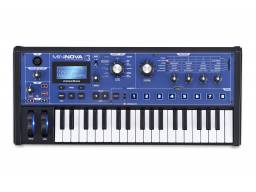 A week ago Novation announced the Novation MiniNova, a 37-note mini key synthesizer. The Synth features all new VocalTune and classic Vocoder engine, 256 on-board sounds, 8 animate buttons, 4 editing knobs, Effects (7) including distortion, reverb, chorus/phase, delay, compressor, EQ and gator, software editor, Patch Librarian.
The MiniNova has the same sound engine as its big brother; UltraNova. MiniNova has 256 onboard sounds and space to save another 128 of your own sounds. MiniNova can do things other synths could not. The mini-keys synth is robust with incredible hands-on performance controls which enable you to tweak, edit and 'animate sounds, and warp the onboard sounds and your own voice as you play. There is also a large knob for filter cutoff so you can get instant control of the filter whatever else you are doing.
Additionally, the Novation MiniNova takes vocal effects one-step further. As well as a vocoder, it has VocalTune. The VocalTune function can recreate iconic urban and hip hop vocal sounds, as well as classic house and techno voice effects with the onboard vocoder . The Synth has an enormously powerful sound engine and synth effects, and the power to layer up to 5 effects per voice. There are 14 conventional waveforms to choose from (square, sine, sawtooth, pulse, triangle and combinations), 36 wavetables and 20 digital waveforms. Each of the 3 oscillators (per voice) have density/detune for fattening up sounds, virtual sync and 'hardness' . Besides that there are also 14 filter types, 6 envelope generators, 3 LFOs and 20 modulation slots where you can link modules of the synth engine together to shape sound.
The Novation MiniNova's compact size, massive sound and performance/editing controls make it perfect for producers, gigging musicians and anyone creating music with computers. The MININOVA synthesizer weighs in an amazing 5.55 lb and will be available from October 2012.
Digital Pianos
Electronic Keyboards
Organs
Pianos
Player Pianos
World Instruments
Electronic Music
Audio Samplers
Audio Sequencers
Drum Machines
MIDI Interfaces
Production Stations
Sound Modules
Tabletop Synthesizers
Das Keyboard High-Performance Mechanical Keyboards
The World's First Cloud Connected Keyboard.
Novation MinNova Analog Modeling Sythesizer
goat milk
incredibles