Electronic Keyboards
Digital Pianos
Portable Keyboard
Synthesizers & Workstations
Free shipping on most items over $9.99!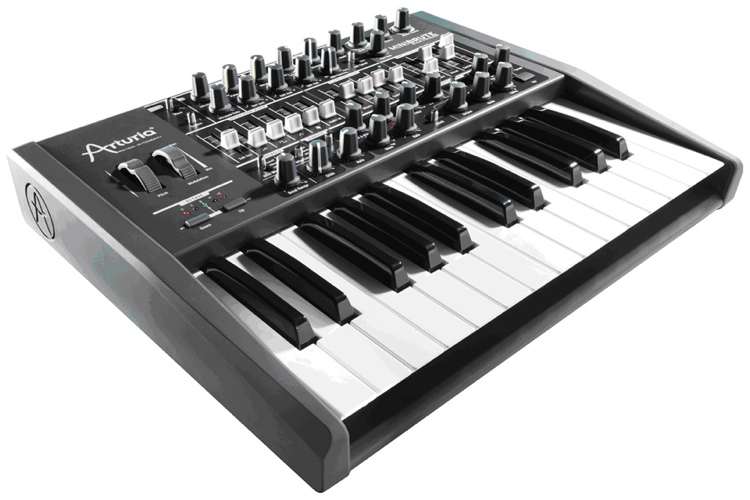 The Arturia MiniBrute takes you back to the basics of analog synthesis. The Arturia MiniBrute Analog Synthesizer features a 25-key All-analog Monophonic Synthesizer with a 3-waveform Oscillator, a Suboscillator, an External Input, a Noise Generator, 2 x ADSR Envelopes, Assignable LFO, Aftertouch, Portamento, Steiner-Parker 2-pole Filter, and Both CV and MIDI I/O – including MIDI Over USB.
This 25-key compact powerhouse synth puts you in control of a 100% analog signal path, complete with all of the tone-shaping tools your heart desires. In addition to standard oscillators, envelopes, and filters, the MiniBrute also gives you a set of truly unique components, such as its exclusive Brute Factor, Metalizer, and Ultrasaw. The MiniBrute lets you sculpt your sound with extensive hands-on controls that let you dive deeply into every aspect of its analog signal path. It's massively powerful oscillator section lets you blend and shape all six of its sound sources, including a multi-waveform oscillator, a noise generator, and an external source input. The slider controls give you quick access to the envelopes, while providing natural visual feedback. In the LFO section, there are individual knobs for assigning modulation to several key parameters.
Arturia also included MiniBrute with a few original gadgets as well. Two of its main oscillators are unique indeed – the extra-vibrant Metalizer modulated triangle-wave and the harmonically rich Ultrasaw but, nothing comes close to the sonic mayhem you can create just by cranking up the Brute Factor. The filter section of the MiniBrute is also exceptional – it is a genuine Steiner-Parker 2-pole filter, the same ultra-resonant filter found in the legendary Synthacon from the mid '70s. Though MiniBrute is completely devoid of digital controls, factory presets or screens but the portable analog synthesizer integrate easily with the rest of the rig. Whether you are using it as part of your live rig or in your studio, the MiniBrute is ready to take your music to a whole new level! In fact, the entire design of the MiniBrute is completely logical and intuitive, so any synth nut will feel right at home. Though there are many analog synths available but few have ever packed with as much functionality and flexibility into such an affordable model.
So, if you are looking for an ultimate hands-on synthesis experience – the Arturia MiniBrute is it!!
Digital Pianos
Electronic Keyboards
Organs
Pianos
Player Pianos
World Instruments
Electronic Music
Audio Samplers
Audio Sequencers
Drum Machines
MIDI Interfaces
Production Stations
Sound Modules
Tabletop Synthesizers
Das Keyboard High-Performance Mechanical Keyboards
The World's First Cloud Connected Keyboard.