Electronic Keyboards
Digital Pianos
Portable Keyboard
Synthesizers & Workstations
Free shipping on most items over $9.99!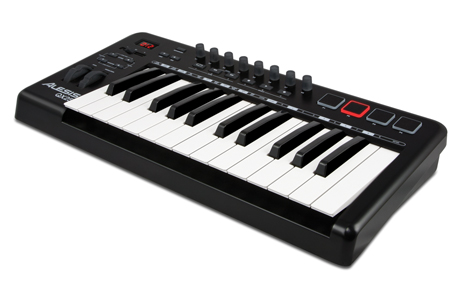 Following the success of the Alesis QX49 which was released early 2011, Alesis announced the QX series has been expanded to include both a QX25 and QX6, at the 2012 NAMM Show. The Alesis QX25 Advanced MIDI Keyboard Controller features a 25-key version with velocity-sensitive keys, Pitch and Modulation wheels, 4 backlit drum pads, 8 knobs, 6 assignable buttons for triggering software controls, fader for volume or synth parameter controls, USB/MIDI connection, and includes Ableton Live Lite Alesis Edition software.
The Alesis QX25's traditional interface and MIDI enables the controller to connect to a computer running Mac OS and Windows, mobile devices with iOS or hardware interface with MIDI. The pads enable user to trigger samples, loops and sequencing drums. The keyboard can also be split into sections to control multiple instruments at once. The Alesis QX25 comes with a customized version of Ableton Live – a fresh and easy way to create music. With a 25-note keyboard, the Alesis QX25 is ultra-portable, which makes the keyboard great for performing and recording with software instruments and samplers, and sequencing music right out of the box. The portable keyboard is powered from the bus USB.
The compact Alesis QX25 is an excellent companion for producers and musicians who require performance on a budget!
Digital Pianos
Electronic Keyboards
Organs
Pianos
Player Pianos
World Instruments
Electronic Music
Audio Samplers
Audio Sequencers
Drum Machines
MIDI Interfaces
Production Stations
Sound Modules
Tabletop Synthesizers
Das Keyboard High-Performance Mechanical Keyboards
The World's First Cloud Connected Keyboard.