Electronic Keyboards
Digital Pianos
Portable Keyboard
Synthesizers & Workstations
Free shipping on most items over $9.99!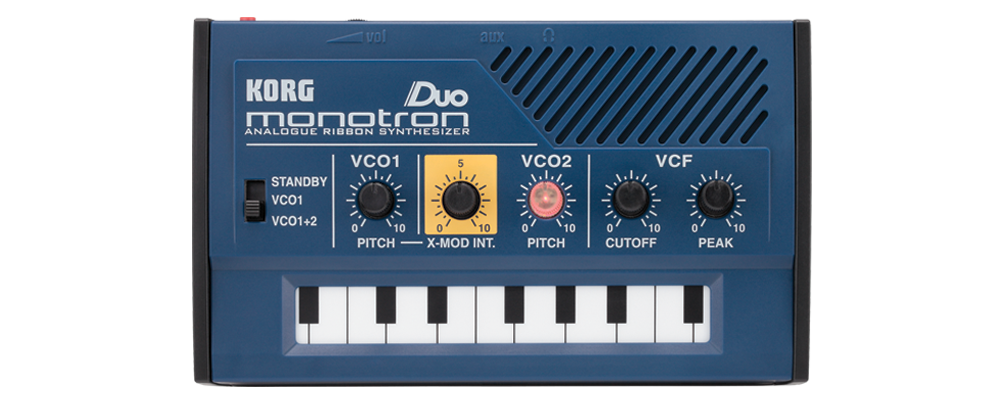 Korg continues to expand its analog synthesizer empire in bite-sized chunks, with the introduction of two new analog synthesizers. The Korg Monotron Duo, and the Korg Monotron Delay Analogue Ribbon Synthesizers are new additions to the Monotron series. For those who are not familiar with Korg Monotron, it is a pocket sized, analog synthesiser, which featured the same filter circuit as Korg's legendary MS20 and MS10 synthesizers. As a result, this palm-sized marvel sounded incredible. Thick, warm tone, with ferocious filters and an LFO meant that tones from speaker wrecking bass to squealing, otherworldly sci-fi effects could be created with ease. Now, we are excited about the new siblings: Korg Monotron Duo, and the Korg Monotron Delay.
Designed in a new blue casing, it is, as its name suggests however, twice the synth of the original in certain ways. The Monotron Duo now has two independently tunable oscillators! Unison tuning can be used to create thick pads and bass sounds, or to create fifths, octaves or other intervals for solos or other sounds and effects. To add further to the creative scope, the Korg Monotron Duo features an X-MOD control, using the circuit from Korg's classic Mono/Poly Synth. This allows FM style modulations to be added to synth tones, creating anything from a slight 'wobble' to a harsh metallic edge.
The ribbon controller keyboard now also features the scale modes of the Korg Kaossilator. This enables it to be configured to play a chromatic scale – as a piano keyboard, or major or minor scales with ease, and make it easier to play in key with whatever you are recording or performing by sliding your finger around on the keyboard.
The Korg Monotron Duo is powered by two AAA alkaline batteries. The compact Monotron Duo can be held in one hand, and the ease of use invites hours of enjoyment and musical exploration.
Digital Pianos
Electronic Keyboards
Organs
Pianos
Player Pianos
World Instruments
Electronic Music
Audio Samplers
Audio Sequencers
Drum Machines
MIDI Interfaces
Production Stations
Sound Modules
Tabletop Synthesizers
Das Keyboard High-Performance Mechanical Keyboards
The World's First Cloud Connected Keyboard.