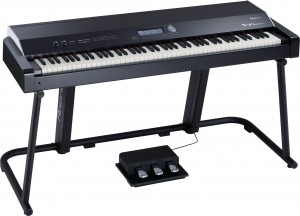 Roland proudly unveiled the new chapter of its V legacy, the Roland V-Piano. The piano redefined. This revolutionary "living' piano breaks the digital sampling barrier in a stand-alone instrument and all pianos sound are customizable. The authentic grand piano sound and other pianos sound on-board are amazing.
The V-Piano features 88 keys new PHA-III (Progressive Hammer Action III) Ivory Feel keyboard with Escapement, maximum Polyphony, LCD display, and weight approximately 38.2 kg. By incorporating this advanced keyboard technology, even the most demanding player will appreciate the new PHA-III Ivory Feel Keyboard. This technology provides the feel of ivory for the natural keys, a truly grand piano touch and response.
Even though, the Roland V-Piano incorporates advanced technology but still it is user-friendly. You can familiarize and start working on your project within a few minutes.