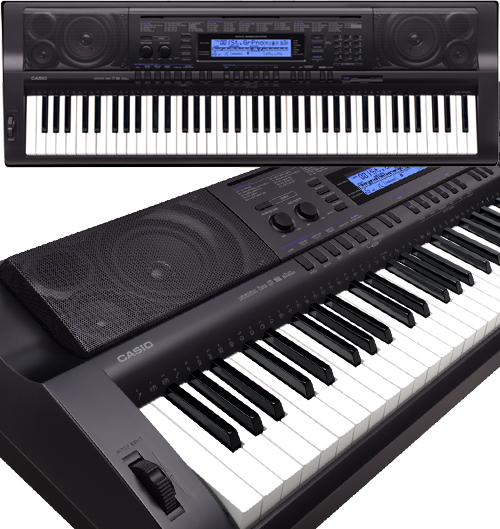 The Casio WK-500 is the latest addition to Casio 'WK' range of workstation and family. The Casio WK-500 Workstation features 76 standard size touch-sensitive piano styles keys and incorporates Casio's acclaimed AHL Sound Source technology, allowing users to select up to 670 high quality tones, 200 rhythms, 152 built-in tunes and 5 songs. This portable workstation weight approximately 17.2 lbs.
The WK-500 also features 48 note polyphony and new improved Step Up Lesson system. A large LCD screen graphically shows users fingerings, keyboard keys to press and notes. This helpful assistance allows users to practice and play at their own pace while enjoying the lessons and feel a sense of achievement at the same moment. A USB MIDI  enable users to connect the WK-500 to a computer or use as a centre piece  for MIDI production, and the SD memory card slot allows users to store their creative work. The workstation is connectable to MP3 or audio instruments and with 10 seconds of sampling.
The Casio WK-500 piano styles keys gives a more natural feel. This affordable, flexible and user friendly workstation keyboard is suitable for music beginners and advanced players. Whether you are playing at home or in a large concert, this powerful portable workstation keyboard will breeze through even complex parts.